Whether you're a long-time car owner or brand new behind the wheel, you know that there are a lot of moving parts to maintain on your car. The best way to prevent serious issues on the road is to be proactive about servicing your vehicle and keeping it in top shape! However, if you do notice that something sounds off, here are some common noises and what they mean so you can act quickly and prevent little troubles from becoming big issues. If you have additional questions or want to talk to a professional about diagnosing your vehicle, stop by our Service Department to get one-on-one assistance.
Sounds Like: Screeching and squealing
When: You press on the brakes
The Likely Offender: It's probably been a while since you've had your brakes checked and you've worn through the pads
Cause for Concern?: No. While you're not in any immediate danger, you should schedule an appointment to have your brake pads replaced soon. If you keep riding on the brakes you can eventually wear it down to the caliper and that will be cause for concern.
Sounds Like: Squeaking or squealing under the hood
When: Any time
The Likely Offender: A loose or worn serpentine belt
Cause for Concern?: Yes. The serpentine belt powers almost all of your engine's major systems and if that snaps while you're on the road it's not going to be pretty. When an old serpentine belt breaks, drive torque to all of the engine's accessories is lost and you're stuck in a car that won't move. So, take your vehicle in to have the belts looked at so you don't end up paying extra for a tow truck.
Sounds Like: A growling animal under the hood
When: You try to start the car
The Likely Offender: Your battery is almost dead
Cause for Concern?: Not right now. The "rur rur rur" sound your car makes when you turn the key is the battery giving you a farewell speech. It might not quit on you tomorrow, next week, or even next month because there are a handful of factors that go into battery life. But you can stop by for a free battery test and we'll help you predict how much longer you can run with what you already have.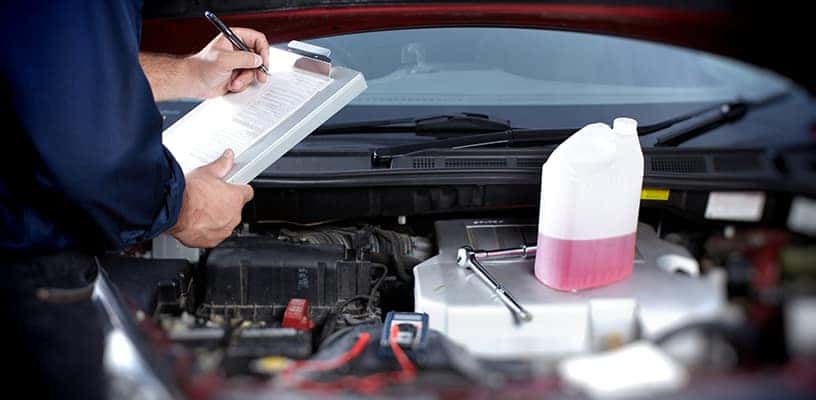 Sounds Like: Flapping or slapping sound
When: When you have the air conditioner running
The Likely Offender: A loose or worn out ventilation flap is, well, flapping
Cause for Concern?: No. Your airflow in the vehicle might not be as strong or consistent as it once was, but the noise is likely to bother you faster than the inconvenience. Schedule an appointment to get your A/C unit checked or just crank up the tunes so you don't have to hear it.
Sounds Like: Rumbling or roar from under the driver's seat
When: When you press on the gas
The Likely Offender: A leak or crack in your exhaust system's manifold
Cause for Concern?: Yes. A malfunctioning exhaust system means that you could have poisonous carbon monoxide venting into the cabin. Don't delay—this is a sound you want to get checked out right away!
Sounds Like: A giant yawning, a low groan
When: You turn the steering wheel
The Likely Offender: Your power steering is causing friction by a malfunctioning pump or low fluid
Cause for Concern?: Yes. You should go get your power-steering system checked out at your earliest convenience so you don't lose control over the car's steering in traffic. This is also an issue that can get worse the longer you let it go because the friction is causing more wear and tear than is good for your steering column.
If what you're experiencing with your vehicle isn't on this list, feel free to contact us to learn more about what you can do to prevent problems. If you're smelling something that you don't think you should, check out our list of common problems now to learn more about what you can do. Get an ASE Certified technician to service your vehicle and keep your car in great working order. Schedule an appointment with us today!