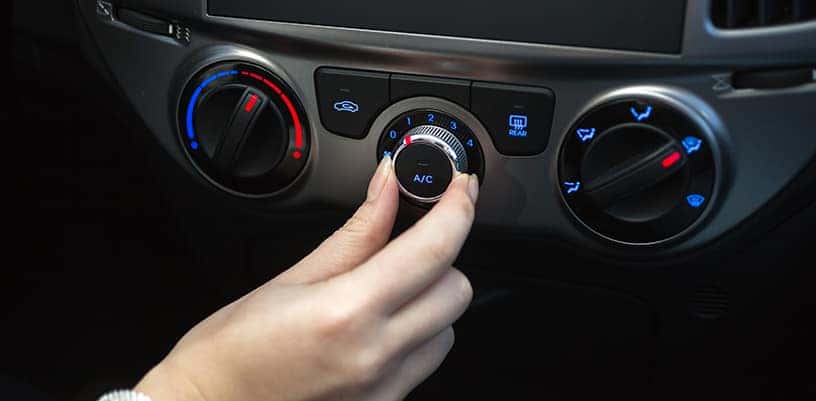 In the dog days of summer, parking lots can get hot. And we mean really hot. And opening the door of a car that's been baking in the sun all day can feel like opening up the oven when you're making cookies – but without the pleasant smell. With all the windows in your car acting like a greenhouse, interior temperatures can climb to over 50 degrees higher than the temperature outside.
The first line of defense is putting up reflector shades to keep out the sun's rays. Not only will this keep your car slightly cooler, but it can also save your leather and plastics from long-term sun damage. You could even have fun with these shades and get ones that make it look like your favorite pop-culture characters have taken over the car.  
However, extra heat in your car is almost unavoidable in the summer, so here are tips to help you make the most of your air conditioning and steps to cool down your car fast.
This is a gimme, but it needs to be said. Keep your air conditioning unit in great shape with regular maintenance. Get a full-system air conditioning check and perform all the minor repairs and maintenance now before they become big issues. Our ASE certified technicians can do all this for you next time you come in for an oil change. In fact, they might suggest it before you even ask.
Air It Out
As soon as you get in the car, your first move should be to get the hot air out as quick as possible. Roll down all your windows and crank up the fans to get the air moving. You're in luck if you have a sunroof because you can let the hot air escape even faster when you open that up. Keep your windows open for the first minute or two of driving to get fresher, slightly cooler air in the vehicle and give the air conditioning unit time to warm up – ironically.
Get Frosty
Next, you will want to turn on your air conditioning to the coldest setting you have. The unit cools the air to its lowest temp first and then, if you have it set higher than the coldest setting, heats it back up to the desired temp. Just let it go full blast and adjust the fan strength until you have the vehicle properly cooled off and adjust the temperature after a few minutes.

Choose New
Be sure to turn off the recirculation until the whole car has cooled down enough to recycle only chill air.
Pro tip: If your car was particularly hot, leave the back two windows cracked 2 to 3 inches with the front two windows closed so any lingering warm air will flow out the rear windows and away from you.
Turn Off Start/Stop
While newer vehicles with the automatic start/stop system have many benefits, in this particular instance, it can get in the way. The start/stop system will shut off the air conditioning compressor when it shuts off the engine, say at a stoplight, so you're stuck sweltering in a warm vehicle. If you can, turn off the start/stop system until your vehicle's interior temperature is to your liking.
Automatically
Awesome
If you're lucky enough to have automatic climate control, it's good to remember lowering the temperature further than the preset max-cool setting won't help the car cool off faster. Most systems will do the fan strength and temperature adjustments for you automatically, so you can sit back and let the vehicle do the work.
If you have questions about your air conditioning or want a professional opinion on the state of your unit, stop by to talk to any of our ASE certified technicians. Make an appointment that fits your busy schedule or drive in at your earliest convenience. See our Service Department page for more details.
Images courtesy of Shutterstock