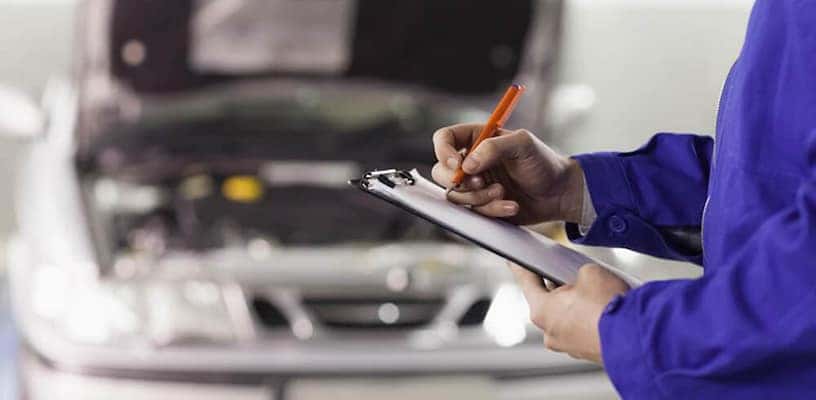 With the first day of Spring around the corner and the promise of warmer days on the horizon, it's time to gear up for some spring cleaning. This is a great time to have your vehicle checked over and made ready for the busy seasons ahead, so you'll cruise smoothly when your calendar is full of soccer practices or weekend road trips. There's no worse time to find out there's an issue with your vehicle than when you're on the road, so cut off these issues before they become problems and spend more time enjoying the warmer weather.
Below is a checklist to help you get your car in top working order. Many of these tasks you can take care of at home but for some maintenance, we recommend you take your vehicle to a mechanic you trust. In our Service Department, we have ASE Certified technicians who know their stuff and are ready to give you top-notch service on your car. Whether it's brand new or vintage, our team has the knowledge and know-how to take care of your vehicle. Make an appointment today!
Change Oil, Check Brakes, and Top Off Fluids
These are pretty basic maintenance items, but they really are the most important things you can do to help your vehicle so be sure to do them regularly. If the oil in your vehicle is low or dirty from excessive use, your car is going to guzzle gas and it could lead to some pretty expensive problems down the road. You want to change it every 3,000-5,000 miles or roughly every three months to keep it in good working order. While you're getting your oil changed, have your technician check on the brake pads to make sure you've got great stopping power and that all your fluids are within a healthy range.
Stay Cool in the Heat
Get in before the crowd and ensure your air conditioning unit is working well so you can stay cool when the serious heat arrives. You'll want to make sure the unit is charged, filled with the correct fluid, and that the air filters have been replaced recently. There's nothing worse than a humid 80-degree day without AC in bumper-to-bumper traffic so while you're getting a few other things looked at in the garage, it's not a bad idea to have your technician check the AC unit as well.
Check for Wear and Tear
If you're in an area that salts the roads to battle road ice in winter, those salts can do terrible things to your vehicle in places you might not expect. First, check your wiper blades and replace those if the salty solutions have eroded the rubber, making it hard to maintain visibility. Next, give your car a really thorough wash to remove the salt from the undercarriage, wheel wells, and in the door joints. The salt can creep into those places and cause rusting to occur leading to further damage if left unchecked.
Inspect the Battery
Test your battery to be sure that the cold hasn't taken its toll on it and that it still has plenty of juice. If it's three years old or more, it might be time to consider a new battery. However, if you're sticking with your existing battery, make sure it is securely mounted by checking the tightness of the brackets. Also, make sure all connections are tight and corrosion-free. Our mechanics are happy to test your battery for you to make sure there's plenty of life left in it and that it is securely fastened.
Check out the complete list below to keep your vehicle in top shape. Give yourself peace of mind and bring your vehicle to a dealership with the experience you need to keep your car in great working order. Our team is ready to help you get you get your vehicle prepped for the warm weather ahead. Make an appointment today!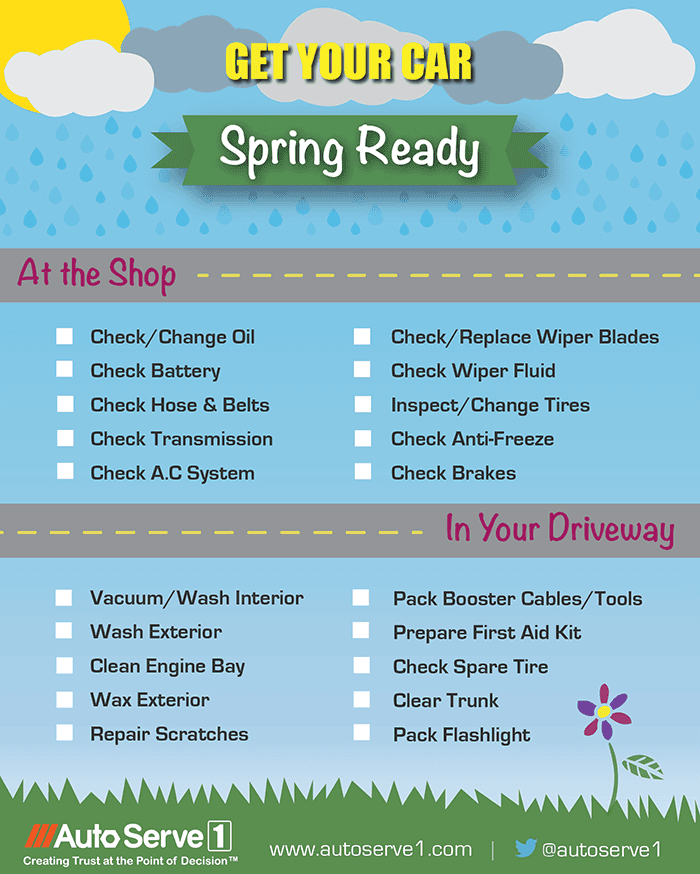 Images courtesy of AutoServe1