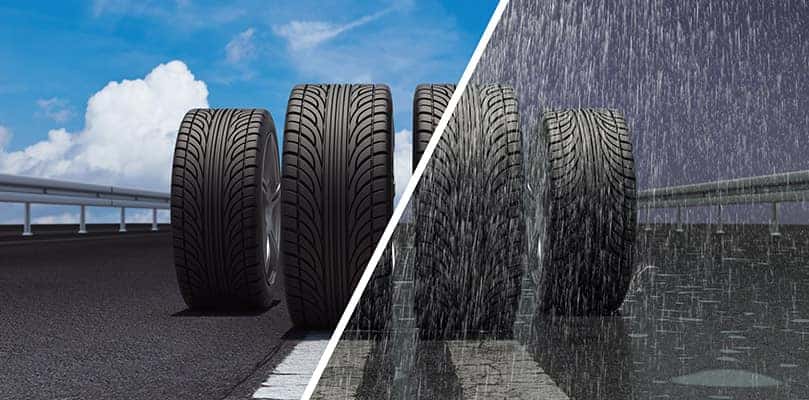 What are the differences between summer, winter, and all-season tires? The materials and the tread pattern top the list of differences, but the way each behaves on wet and icy pavements is possibly the most important detail to pay attention to. When debating which one is right for you, consider your driving style the road conditions you encounter. There are benefits and drawback to each, so we've provided valuable information to help you make an informed decision below.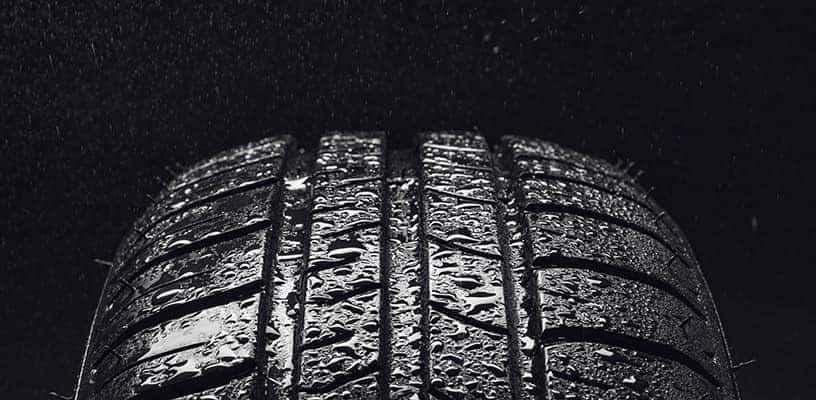 Summer Tires
Built for speed and agility, there's a good reason some people call these performance tires. They offer excellent grip on asphalt that's hot, damp, or soaking wet, thanks to the tread and compound. The mix of tougher rubber and sticky additives help create a tire that doesn't lose its shape in high heat and holds onto the road in wet conditions. The tread patterns are shallower, usually with a ring of interrupted rubber down the middle so you always have contact with the pavement, resulting in better stability.
Pros:
Great grip in warm weather

Designed to avoid hydroplaning, even in heavy rain

Contribute to improved handling,

especially

around corners and during braking and acceleration

Great ride on high-performance vehicles and your everyday car
Cons:
Not recommended for temperatures below 45 degrees Fahrenheit, so only useful when the weather is warm

All-Season Tires
These are a hybrid between serious winter tires and summer tires. They function well in cold weather thanks to a rubber compound that hardens at a slower rate as the temperature drops and still function in warmer months – not at the same level as summer tires, though. Though they do function in lower temperatures, experts recommend using them at a minimum of 45 degrees Fahrenheit. At 17 degrees Fahrenheit, most all-season tires will become just as hard and brittle as summer rubber.
The tread patterns have deeper grooves with plenty of tread variation to allow light snow and slush to pass through so the rubber can meet the road. All-season tires handle well in a wide range of conditions but aren't exceptional in extreme weather.
Pros:
Moderate to great traction in the widest range of conditions

Handle light snow better than summer tires

Great ride performance on passenger cars, SUVs, crossovers, and light trucks

Best for everyday commuters
Cons:
Not

great for performance

Not

recommended extreme heat

Not

recommended extreme cold

Winter Tires
Experts recommend winter tires in areas where temperatures dip below 45 degrees Fahrenheit for extended periods and snow, ice, sleet, and freezing rain are prevalent. For extreme weather, some snow tires come with built-in metal studs to bite the ice for added grip, but you should not use these for daily driving in clear conditions. The most common winter tires have deep grooves and special, softer rubber compounds that don't get brittle when the temperature drops. Because tire manufacturers develop the rubber compound for cold weather only, winter tires do wear significantly faster in temperatures above 45 degrees Fahrenheit.
Pros:
Safest option for freezing temperatures and snowy conditions

Strong grip in snow, sleet, and icy conditions

Available for most passenger cars, SUVs, crossovers, and trucks
Cons:
Not always a smooth ride

Require seasonal tire changes to summer or all-season tires
For expert advice on which tires would be right for you and your vehicle, stop by our service department and talk to one of our certified technicians. We'll help you decide which ones are the smart choice and install them on your vehicle so you're ready to roll. Contact a team member now to set up an appointment.
Images courtesy of Shutterstock