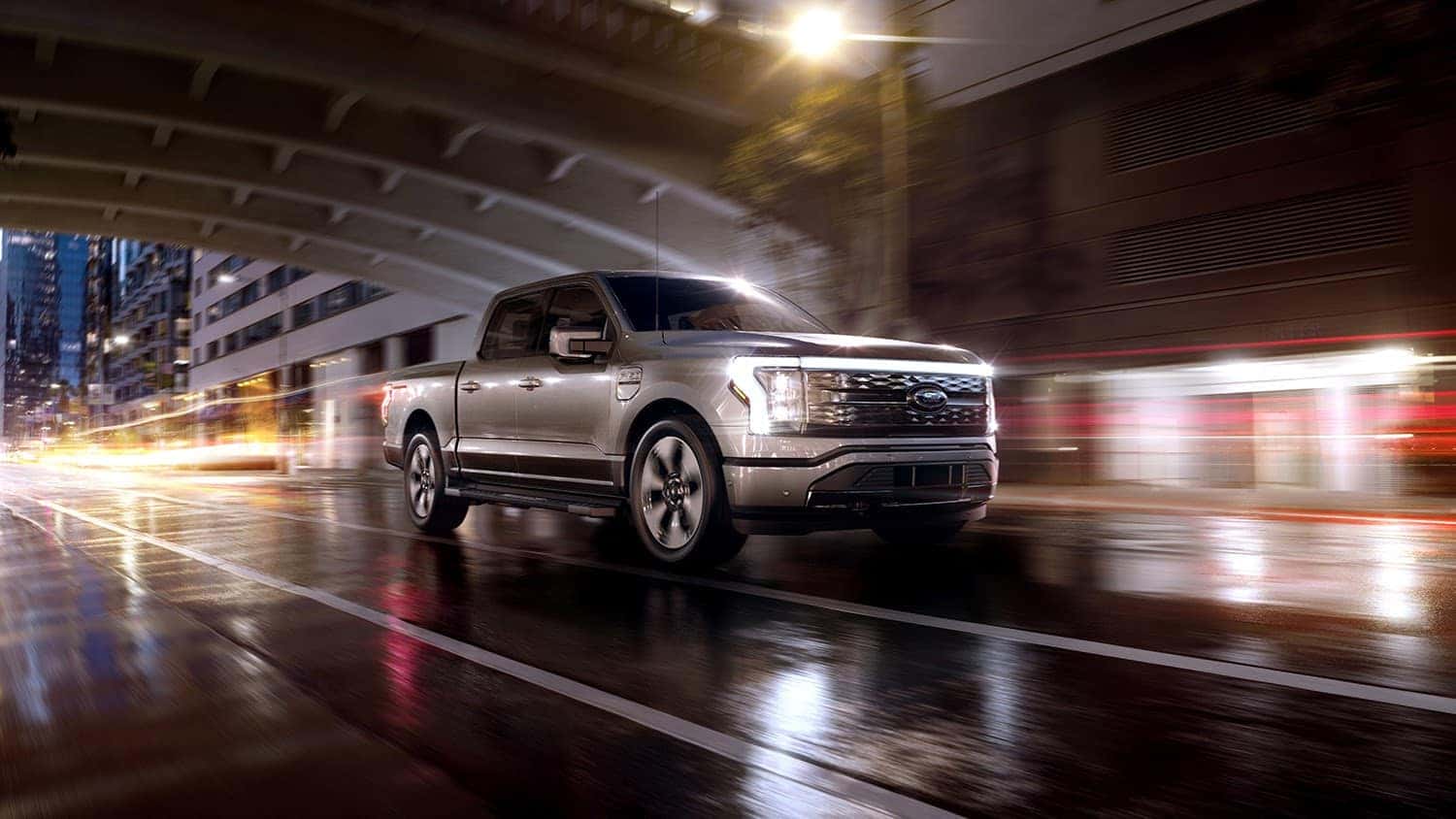 Just because it's working towards a cleaner planet, doesn't mean it can't handle tough jobs. The all-new, all-electric Ford F-150 is estimated to tote 563 horsepower and 775 pound-feet of torque, helping it tow up to 10,000 pounds and carry a max payload of 2,000 pounds  — 400 of which can be handled by its spacious front trunk (also known as a frunk).
"It's quicker than a Raptor," says Ford President and CEO Jim Farley. Meaning the F-150 Lightning not only helps you get work done with the most torque ever in an F-150, but can also let its hair down on the weekends and have some fun, getting up to 60 mph in 4-ish seconds.  
You've read what it can do. Its capability is impressive. Its speed? Exhilarating. 
Well, How About Its Tech?
For starters, the F-150 Lightning houses a behemoth 15.5-inch touchscreen that will receive over-the-air updates coined Ford Power-Ups. Keeping the Lightning's tech fresh and fast without having to stop at the dealership. 
And it certainly doesn't stop at speed and smarts — it's powerful too. How powerful? So glad you asked! The new F-150 Lightning houses 9.6 kilowatts of power. Not sure how much 9.6 kW is off the top of your head? That's enough to power your home for three days. Three days. Three whole days. 
According to Ford's electric vehicle manager, Ryan O'Gorman, the F-150 Lightning is the first in the US to have this capability. "F-150 Lightning is built for seamless transitions between charging your vehicle and powering your house when needed," said O'Gorman.
The F-150 Lightning's impressive technology spills over into its newest safety feature: BlueCruise. Joining the Ford Co-Pilot360™ tech family, BlueCruise is Ford's take on the semi-autonomous tech we've seen popping up left and right. BlueCruise offers a hands-free driving experience on more than 100,000 miles of pre-qualified divided highways across the U.S. and Canada.
We've hit performance, tech, and safety. Now it's time for the question all EVs face. 
What's the F-150 Lightning's Range? 
The standard-range option aims for a 230-mile EPA-estimated range while the extended-range upgrade targets an EPA-estimated 300-mile range. To put that in perspective, Car and Driver compiled the range of 33 EPA-rated EVs that span from 110-373 miles. 
Now the question that goes hand-in-hand with range is charge time. You can fully charge an extended-range F-150 Lightning (from 15%-100%) overnight at home, which is on par for most EVs. 
As for charging on the road? The FordPass app offers drivers access to North America's largest public charging network — more than 63,000 charging plugs and counting. Stop at a 150-kilowatt DC fast charger to get 54 miles in just 10 minutes. For a more complete charge, the extended-range battery should get you from 15%-80% in about 40 minutes. 
Pricing May Shock You
Kumar Galhotra, Ford's president of the Americas and International Markets Group, remarked, "We're not here to make an electric truck for the few – Ford is committed to building one that solves real problems for real people," And Galhotra couldn't be more spot on as the base F-150 Lightning starts at $39,974 MSRP. For additional features, the XLT will be available at $52,974 MSRP, making the Ford F-150 Lightning a truck for the people.
Reserve Yours Now!

Click here to start the process to reserve your Ford F-150 Lightning >
A truck we're excited to finally see revealed. A truck we are eager to get on our lot here at Garber Automall and into your driveway as soon as it's available in Spring 2022. So when the time comes and you're ready to make the switch to electric, make it with America's #1 selling truck here with us at Garber Automall. For more on the F-150 Lightning, industry news, and all things Garber Automall, give our Facebook page a like and follow us on Instagram!  
Sources: