You Need to Test Drive the 2018 Chevy Colorado ZR2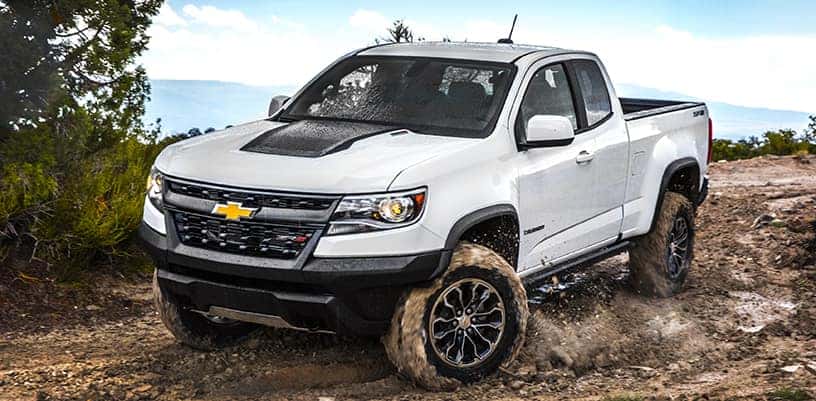 According to AutoTrader, the Chevrolet Colorado ZR2 is a 2018 Must Test Drive Award Winner thanks to its comfortable size and proven off-road capability. The Colorado ZR2 was one of twelve winners recently announced by the publication, and the only pickup truck to earn this award. Top winners had a number of outstanding features, including "interior comfort and materials, available technology features, and ride quality." Chevrolet will continue to elevate the standards for vehicle ownership and creating a must-see experience with this pickup truck is just one more reason to choose Chevy.
"We're honored by this recognition and thrilled that Autotrader has picked up on the versatile footprint and serious off-road capabilities of ZR2," said Anita Burke, vehicle chief engineer for Midsize Truck, General Motors. "ZR2 builds on the already-capable platform of the Colorado, and we agree that all customers looking for a great truck, not to mention an excellent off-road vehicle, should give it a spin, as it's every bit as enjoyable on paved roads as it is on sand dunes, two-tracks and while rock crawling."
The Chevrolet Colorado ZR2 was acknowledged for its easy-to-handle dimensions and outstanding off-roading capabilities. Autotrader notes that "ZR2 is a true off-road machine, rugged and ready for almost anything you can throw at it." Chevrolet believes the ZR2 is effectively a segment of one, combining the nimbleness and maneuverability of a mid-size pickup with a host of new off-road features and technology.
When you put the standard Colorado side-by-side with the ZR2, you'll notice some significant differences that set apart the massive off-roader. The ZR2 features a three-and-a-half-inch wider track as well as a two-inch lift from the factory. For added protection and better performance over rocks and other obstacles, Chevy added a functional rocker as well as modified front and rear bumpers that give you better clearance. Class-exclusive features include front and rear electronic locking differentials, available diesel engine, and the first off-road application of Multimatic Dynamic Suspensions Spool Valve (DSSVTM) damper technology.
This stellar pickup truck delivers exceptional performance on whatever terrain you put under it. If you want to go rock climbing, the Colorado ZR2 is ready to grab hold of even the most challenging courses. If you're ready to ramble down a two-track trail, the ZR2 can handle the turns with grace and speed. Plus, it does pretty well on asphalt, too!
Take a test drive to see what the AutoTrader was talking about and discover your reason to love this thrilling truck. See our 2018 Chevrolet Colorado inventory now to start browsing for the truck that fits your needs and budget. When you're ready to test drive, we're ready to help you. Get your new truck today!
Images courtesy of Chevrolet Media
Join the Conversation
Comments
comments