What's the Buzz with Buick's Latest SUV?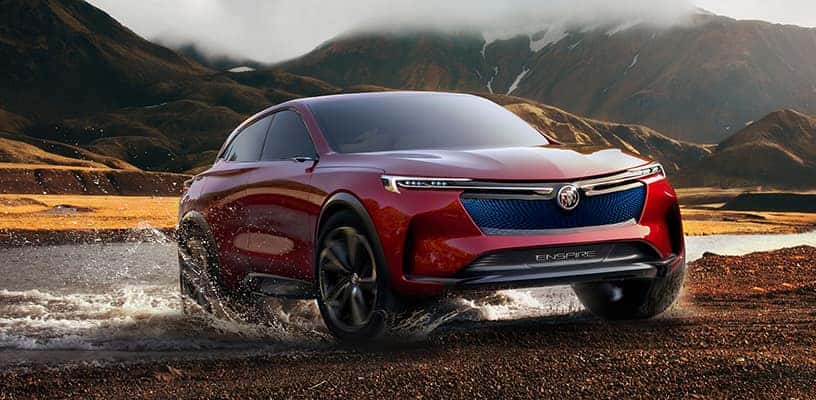 Buick is leaning into electric options and working on an SUV that's all-electric and delivers a massive 550 horsepower! It's called the Buick Enspire, continuing the brand's trend to start the name of all their crossover SUVs with the letter 'E.' This new compact crossover is attractive, innovative, and, true to traditional Buick style, packed with luxurious features to help you enjoy every trip. Take a look at this exciting electric SUV concept and then view our current inventory of new Buick vehicles to start shopping for one that matches your driving style today!
The first thing you'll notice about this vehicle is its stunning good looks. The Enspire is not boxy or bulky in any way; it has long sweeping lines, subtle sloping curves, and a minimalist exterior that is timeless already. The intentional chrome accents are matched with contrasting black details that together offer a sense of elegant glitz instead of gaudy flash. But this crossover is more than just its good looks – this beauty has state-of-the-art brawn to go with it.
While this vehicle is still a concept, the details available for this powertrain suggest the Buick Enspire will be a robust athlete. Buick has employed what it calls the "eMotion electric propulsion technology," citing a stout 550 horsepower and a time from zero-to-60-mph in as little as 4.0 seconds. The innovative battery pack supports inductive charging capability and can replenish 80 percent of its capacity within 40 minutes with fast charging. While we don't yet know the size of the battery pack, Buick says that this SUV can go as far as 370 miles on a single charge so you can kiss your range anxiety goodbye!
The interior of the Envision is just as breathtaking as the exterior. A glance inside the cabin reveals a futuristic space that embraces an open concept. You'll enjoy an OLED screen, front-and-center with an advanced augmented-reality head-up display system provides the driver with turn-by-turn navigation. The dash sports natural woodgrain and suede, and Buick said the interior theme is "surround skyline" to create an open and airy feeling.
The Enspire all-electric concept debuted at Auto China 2018 in Beijing from April 25 to May 4. Overseas markets are tightening restrictions on gas emissions and Buick is leading the way to add more electric elements to fit a global perspective of safety. The 2018 LaCrosse boasts electric elements with its latest 2.5-liter four-cylinder engine to deliver quiet, refined, yet spirited efficient performance on every trip.
"Executing innovative technologies in an approachable and meaningful way is core to Buick," said Duncan Aldred, vice president, Global Buick and GMC. "By adding the eAssist system to the LaCrosse, our technology flagship, we are making electrification accessible to our customers as we chart our course to the future of mobility."
Buick continues to navigate toward an electric future with the all-new Enspire concept. Just like all of its current crossovers, it provides you with upscale convenience, power on demand, and classic designs that never go out of style. See our current inventory now to start shopping for your new Buick today!
Images courtesy of Buick Media
Join the Conversation
Comments
comments