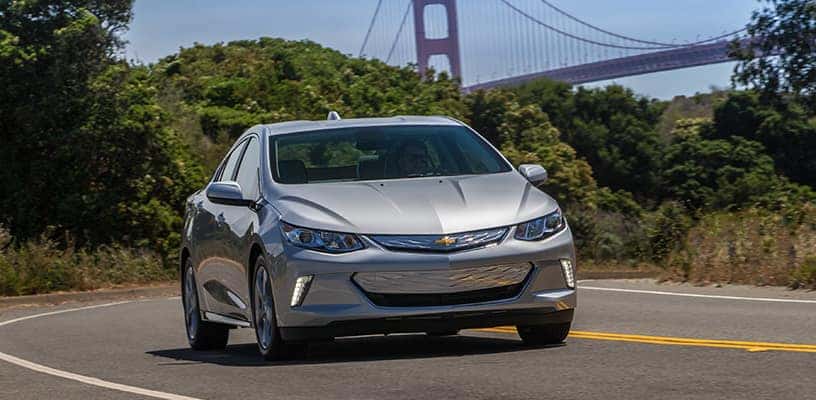 On the 2019 Chevrolet Volt, you'll see some important updates that make your commute easier and more convenient, like the faster charging system and a refreshed infotainment system. This hybrid sedan offers 53 miles of EV range and 420 miles total driving range with a full charge and tank of fuel, making it great for eco-conscious commuters or just everyday drivers looking to save a little money at the pump.
The average commute is about 40 miles round trip, which means the Chevy Volt's 53 all-electric range is more than enough for your daily drive. But when you need a little backup for your battery, the 1.5-liter inline four-cylinder engine uses your gasoline efficiently. With regular charging, you could go over 1,100 miles on one tank of gasoline.
When it's time to plug in, the new 7.2-kilowatt charging system cuts recharging times nearly in half. The new charging system, which comes standard on the Premier and is an option on the LT trim, reduces charging time by connecting to a 240-volt charging station. You can charge a depleted battery in as little as 2.3 hours, which means almost twice the amount of driving time per hour charged.
Save some energy you use for the automatic climate control with customizable temperatures. The 2019 Volt allows you to override the automatic engine-assisted heater so it does not turn on in temperatures as low as -13 degrees Fahrenheit. This helps extend electric range in cooler climates.
In the cabin, the 8-inch color touchscreen incorporates the new Energy App so you can get vital data at a glance. On the Chevy Infotainment 3 system, you'll see how your driving style, route, weather, and cabin comfort setting may affect the range left on your battery. The app shows this in with mileage left available instead of the previous score metric.
Not only will you get new EV tech on the Chevy Volt, but it also adds some exciting safety and driver-assist features. The new pedestrian alert system uses front and rear speakers to provide audible alerts if it detects a moving obstacle ahead of you at low speeds. The refreshed rearview camera offers a sharper image to help you with precision parking maneuvers, and adaptive cruise control keeps you safe and fatigue free on your highway commute. Plus, a new tire-fill alert sounds the horn when you've filled the tires to the correct pressure to avoid overfilling and maximize fuel economy.
Check out the 2019 Chevrolet Volt when it goes on sale this fall. You can see our current inventory of earlier models online now to shop for your Volt. Take a test drive today.
Images courtesy of Chevrolet Media