Understand the Electric Innovation in Your 2018 Chevrolet Volt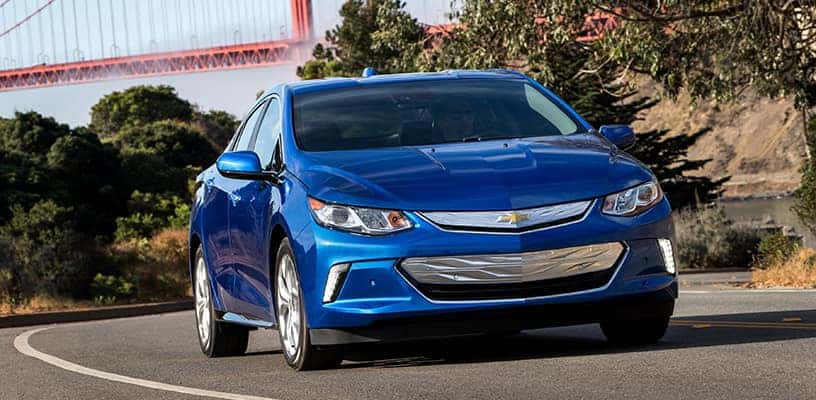 Causing a buzz on the electric car scene since 2011, the Chevrolet Volt continues to blend practicality with technology in a stylish package as it enters 2018.
The 2018 Volt's long, crisp lines create a striking silhouette for this fuel-conscious vehicle, and the battery pack allows you to go a respectable 53 miles on electric power alone before sipping from the gas tank. This means you can spend more time enjoying the 2018 Chevy Volt's comfortable amenities and less time pumping gas. Make it a habit to recharge the Chevy Volt overnight, and you may forget there's even an internal-combustion engine in this sedan.
The 2018 Chevy Volt's 1.5-liter high-efficiency engine pairs with two electric motors that act as propulsion units and generators. You're not just spending energy, you're also creating it with every trip.
With a full charge and a full tank of gas, you can expect up to 420 miles of total range. The EPA-estimated 53-mile range gives it a 106 mpg-e combined rating on electric only, while its 367-mile range in hybrid mode comes out to 42 mpg combined. Your range may vary based on several factors, including temperature, terrain, and driving technique, but any way you look at it, those are spectacular numbers. 
Extended range is not the Volt's only high point. It's also rewarding to drive, with respectable acceleration and few dynamics compromises in the name of fuel efficiency. The Volt sprints from 0 to 30 mph in 2.6 seconds and 0 to 60 mph in a quick 8.4 seconds.
The transition from electric-only power to using gas is smooth enough you might not notice it unless you're watching the real-time driving data on the Driver Information Center. The DIC also tells you how much charge the battery has left and an estimate of remaining range.
With a pull of the paddle on the Volt's steering wheel, you can slow the sedan down without using the brake pedal thanks to regen on demand. This converts the kinetic energy braking creates into power for the battery. While the regen-on-demand system is a great way to extend the 2018 Volt's range, the most effective way to recharge your battery is to charge it right at home with AeroVironment's Level 2 charger. With this 240-volt charger professionally installed, you can recharge the battery in about 4.5 hours. There is also an included 120-volt portable charge cord that charges the battery in about 13 hours on a standard household plug.
There is also smart tech that integrates with your phone to help you make the most of every commute. The myChevrolet mobile app allows you to start your vehicle remotely, lock and unlock the doors, and even warm up your car while it's charging with the tap of a finger. The app also lets you monitor charge status anywhere and any time so you have all the information you need to handle unexpected errands. You can also find charging stations, view diagnostic information, and set parking reminders from almost anywhere. It's just one more example of Volt technology working for you.
Get behind the wheel of a 2018 Chevrolet Volt today to experience the electric power of this vehicle. You'll love the money you save at the pump and the intelligent tech that makes this car stand out from the crowd. See our current inventory today.
Images courtesy of Chevrolet Media
Join the Conversation
Comments
comments