Speed Up Your Charging in a 2019 Chevy Volt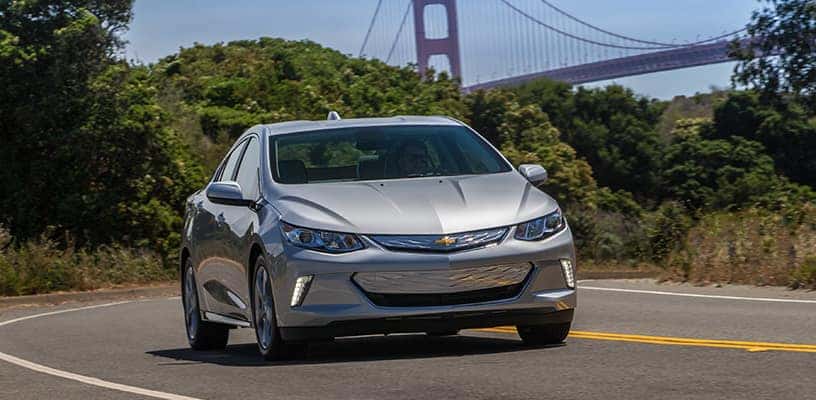 The 2019 Chevrolet Volt has made significant changes to the electric powertrain that cuts charging time almost in half and adds nearly twice the all-electric driving range per hour of charge. The new system showcases several additional enhancements for the 2019 Volt and increases the ability for owners who take advantage of "opportunity charging," or plugging in around town to top off the battery charge.
"With about twice the range added during 240V Level 2 charging sessions, the 2019 Volt's 7.2 kW system makes opportunity charging more worthwhile," said Jesse Ortega, chief engineer, Chevrolet Electric Vehicles. "It effectively extends the vehicle's all-electric driving range, while providing about twice the range for the money when plugging in at public facilities that charge by the hour."
You can achieve a complete recharge in as little as 2.3 hours for the new 7.2-kilowatt system with a 240-volt outlet and the supporting hardware. The new system is standard on the 2019 Volt Premier model and available on the LT trim. A 3.6-kilowatt charger is standard on the Volt LT, but buyers can opt for the 7.2-kilowatt system.
The new charging system complements the Volt's extended-range electric propulsion system, which offers up to an EPA-estimated 53 miles of pure electric range and 106 mpg-e. When the battery runs low, a gasoline-fueled generator kicks in to extend the driving range to 420 miles on a full tank.
But that's not all that's new for the 2019 Chevy Volt, you'll also have new low and regen on demand profiles for increased regenerative braking capability when you pull your foot off the accelerator. Chevy has refined this feature for smoother operation when slowing.
The Volt's new Chevrolet Infotainment 3 system with an 8-inch-diagonal color touchscreen incorporates a new Energy App. The app's Impacts Screen shows drivers how driving style, route, weather, and cabin-comfort settings may affect range and conveys the impact more based on mileage rather than the previous numerical score. Drivers will enjoy having more information about their efficiencies and can aim to eke out every EV mile possible.
"The 2019 Volt's enhancements give customers more of what they love with the vehicle and make it even more useful as an everyday electric vehicle," said Ortega. "It's a more seamless experience than ever."
Test drive a 2018 Chevrolet Volt today to get a feel for this car and see if it's right for your commute. The 2019 Volt goes on sale this fall. Talk to a team member today to learn how you can secure yours and be a part of the Volt owners that have driven over 2.8 billion EV miles, saving over 108 million gallons of gas.
Images courtesy of Chevrolet Media
Join the Conversation
Comments
comments