See the 2019 Suburban RST Performance Package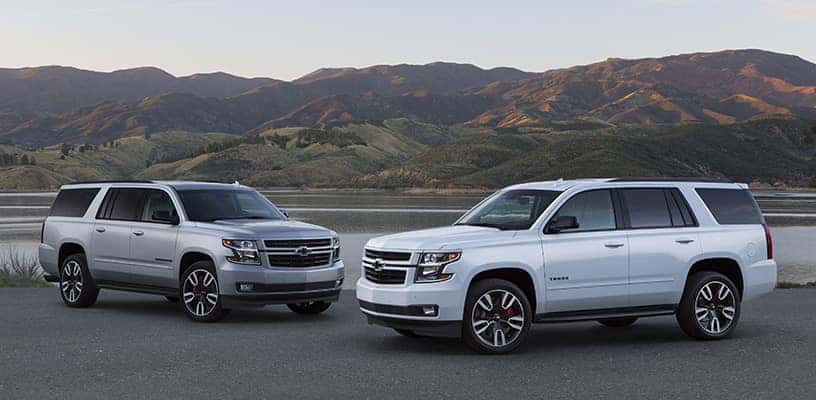 Are you ready for a Chevy Suburban that's more than just a family-hauler? Then look for the new Suburban RST Performance Package. This suite of accessories and features seamlessly blends more style and performance into this full-size SUV, so you can have full-size fun no matter where the road takes you. Take a peek at what's available with this package as well as what you can look forward to on the 2019 Chevrolet Suburban. Then view our current inventory of in-stock Chevy Suburbans to start shopping for the model that's just right for your family.
"The RST Performance Package made its debut on the Tahoe RST last spring, and the response from our customers was overwhelmingly positive," said Sandor Piszar, director of Chevy Trucks Marketing, and Advertising. "In fact, Tahoe RST with the Performance Package is the fastest-turning Tahoe model, and we've received customer requests to offer the same performance and power to Suburban RST. Delivering on those requests with the Suburban RST Performance Package is another example of how Chevrolet has continually invested in the segment, developing models with combinations of capability, technology, and performance to meet the needs of different customers."
The all-new 2019 Suburban RST Performance Package will offer the 6.2-liter V8 engine, with a whopping 420 horsepower and 460 lb-ft of torque. The engine delivers three state-of-the-art technologies — direct injection, Active Fuel Management, and continuously variable valve timing — to make the most of power, torque, and efficiency wherever the road leads. Plus, you'll also get the innovative ten-speed automatic transmission for more power on demand.
"When you want to hustle, the Suburban RST with the Performance Package offers high levels of acceleration, braking, and road-holding grip," said Eric Stanczak, chief engineer for Chevrolet full-size trucks. "When you want to relax, it is very refined, with exceptional ride comfort and interior quietness."
And every trip will feel like a ride on a cloud, thanks to the Magnetic Ride Control. This feature is an active suspension that "reads" the road every millisecond, triggering damping changes in the electronically controlled shock absorbers in as few as 5 milliseconds. With all that data, the suspension delivers both improved body-motion control during cornering and a more comfortable ride while cruising. The new performance calibration included in the Suburban RST Performance Package increases body control for even higher levels of responsiveness and comfort.
The Performance Package is available as an upgrade to the Suburban RST, which was introduced last year. The design team hand-selected the details and accents to provide you with a modern, trendy look. Changes include body-color grille surround and door handles; gloss-black grille and mirror caps; and black roof rails, window trim, badging, and Chevy bowties. The RST package also includes 22-inch wheels wrapped in Bridgestone P285/45R 22 tires.
Get all the Suburban feel you want with a little more pizzazz and flair. Check out the 2019 Chevrolet Suburban online now!
Images courtesy of Chevrolet Media
Join the Conversation
Comments
comments