See a Corvette ZR1 Hit 212 MPH!
Check out the video below where the legendary 2019 Chevrolet Corvette ZR1 reaches an incredible 212 miles per hour on the track. The 755 horsepower sports coupe flexed its muscles at the high-speed oval at Automotive Testing Papenburg (ATP) in Germany, where the team pushed a Corvette ZR1 around the 7.6-mile track first clockwise and then counterclockwise, to account for the wind. The average clocked in at 212 mph and looks just as heart-pounding in the video as you'd expect. Take a look at what accessories and packages were on this thrilling car and then start shopping for your new Corvette today!
With the wind at its back, the speedster cut through the track at a top speed of 214.88 mph. However, traveling the opposite direction, the amazing ZR1 managed to peak at 210.20 mph since it faced more wind resistance. The two recorded speeds were then averaged, resulting in an official max of 212 mph. Check it out:
The 2019 Corvette that made these iconic laps around the track was a standard ZR1 with an eight-speed automatic transmission. Oddly enough if you choose the ZTK Track Performance package, the coupe's top speed falls to 202 mph. The Track package includes removable carbon-fiber end caps for the front splitter, stickier Michelin Pilot Super Sport Cup 2 rubber in place of the standard Michelin Pilot Super Sport tires, an even larger rear wing capable of generating 950 pounds of downforce, and a few other additional performance features. For the low-wing Corvette ZR1 convertible, Chevrolet claims a top speed of 208 mph, whereas the 199-mph ZTK convertible doesn't quite make the grade.
This shows that if you're thinking of purchasing a 2019 Chevy Corvette, even just the standard one off the line will give you pulse-pounding action like you've never seen before. It's all thanks to the hand-assembled 6.2-liter LT5 supercharged small block V8 engine that delivers 755 horsepower and 715 lb-ft of torque, with over 600 lb.-ft. of torque available from 2200 rpm to redline. That's more than enough performance to give your daily commute a little extra thrill.
And if you're buying this and don't want to wake the neighbors as you prowl the suburb, the four-mode exhaust system provides a range of sound profiles that you can customize to fit your surroundings. Tailor the throaty growl of the ZR1 with these profiles: Track, Sport, Tour, and Stealth. Using variable valves, this system can create either a thunderous performance or an unbelievably covert ride. So it's up to you whether to announce your presence or fly under the radar.
Don't hesitate to make your appointment today. As soon as you test drive this beast, you'll want to take it home. See our inventory online now to start shopping with us and make the supercar of your dreams a reality in your driveway.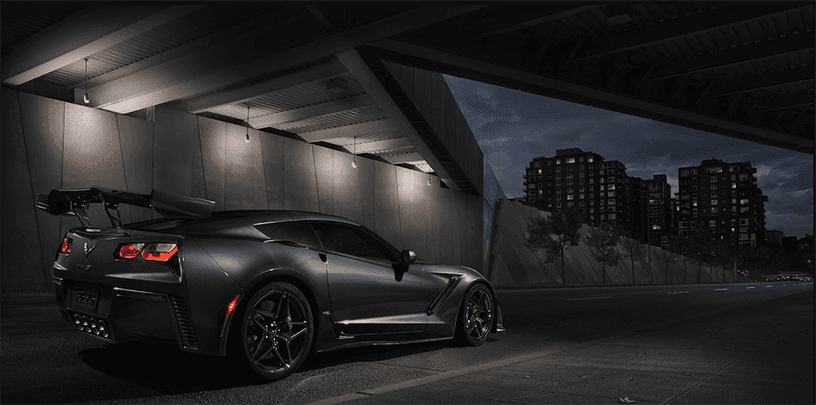 Images courtesy of Chevrolet Media
Join the Conversation
Comments
comments