New Tech for the New 2019 GMC Sierra 1500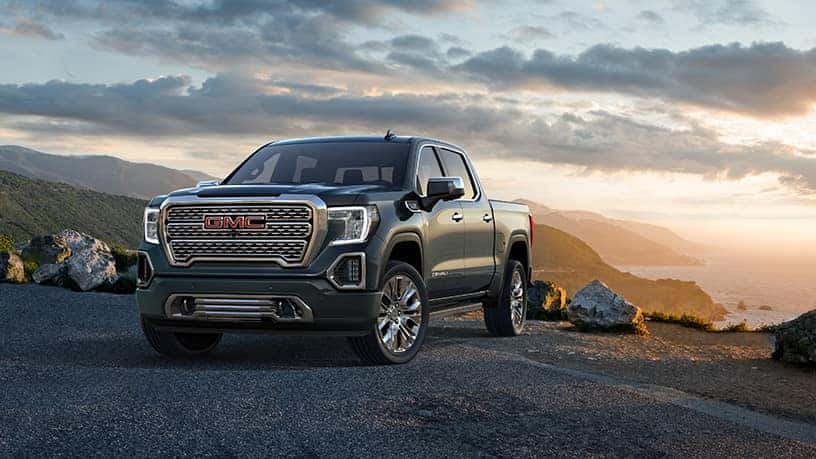 With a rugged frame and strong powertrain options, the 2019 GMC Sierra will offer the capability needed for pulling a trailer – but capability means little without confidence and control. That's why the Next Generation Sierra offers a suite of new features and technologies designed to take the guesswork out of trailering. When you have a tough job to haul, the new 2019 Sierra 1500 will have the advanced technology to help you make it easy. Take a look at what is coming when this new truck arrives in the fall and then view our current inventory to start shopping for the Sierra you need in your driveway.
"In addition to working with major trailer manufacturers, GMC spoke with thousands of pickup truck owners who trailer, either on a daily basis or a couple times a month," said Tony Johnson, Director of Truck Strategy. "We listened to their thoughts on how the trailering process, from connecting the hitch to traveling down the road, could be improved upon, and integrated professional-grade solutions into our Next Generation 2019 Sierra."
A typical towing package might include a receiver hitch platform, a wiring connector, and some other basic bits of hardware. That isn't the case with the 2019 Sierra's new ProGrade Trailering system.
"ProGrade Trailering goes beyond a basic towing package," said Johnson. "The connectivity and convenience it adds to the Next Generation Sierra are designed to provide guidance and eliminate guesswork while trailering, helping customers feel more confident while trailering. Whether you're looking to back up to a trailer without a spotter or simply want to keep tabs on your trailer, the ProGrade Trailering system will prove an invaluable tool."
ProGrade Trailering on the 2019 GMC Sierra includes:
Hitch Guidance with Hitch View: Sierra's Rear Vision Camera not only incorporates dynamic guidance lines for the truck itself, but also one for the trailer hitch. A Hitch View mode allows the driver to zoom in on the hitch for careful maneuvering. The system can also be briefly accessed while in motion to ensure the trailer is properly connected.
Auto Electric Parking Brake Assist: To help with perfect positioning, after backing up to a trailer hitch, Sierra will automatically apply the parking brake when shifting into park, preventing any further movement.
Hitch Area Lighting: A new lamp integrated into the tailgate panel shines directly down on the receiver hitch area, easing trailer connections in the dark.
Integrated Trailer Brake Controller: This controller now allows drivers to program trailer brake level settings to specific trailer profiles.
At the core of Sierra's ProGrade Trailering functionality is the new Trailering App. Integrated with and accessible through Sierra's available infotainment system, the Trailering App offers a variety of unique features designed explicitly to improve the trailering experience.
While ProGrade Trailering certainly helps tailor the 2019 Sierra for trailering, we didn't stop there. Other features incorporated into our latest full-size pickup that can make trailering easier include:
Available Trailering Camera Package: This package adds two rear-facing cameras integrated into the side mirrors, which are useful for seeing down the side of your truck and trailer during lane changes or when backing up. When paired with an available accessory trailer-mounted camera, the system can allow the driver to see down both sides and behind the trailer at the same time.
Tow/Haul Mode: This feature adjusts transmission shift points in order to deliver peak power when needed most. For 2019, Sierra now provides a reminder to engage Tow/Haul Mode on the transmission is provided when a trailer is detected. Further, Tow/Haul Mode remains engaged up to four hours after shutting down the engine – leaving one less thing to remember when hopping back in your vehicle after stopping for gas, food, or to enjoy a scenic stop along your drive route.
Trailer Sway Control: Senses when a towed trailer begins to sway and applies tow vehicle brakes and/or dials back engine power to bring trailer back under control. When paired with the Integrated Trailer Brake Controller and a trailer with electric brakes, the trailer's brakes may also be applied to help stabilize the trailer.
Automatic Grade Braking: Sierra can sense when the driver wants to slow the truck and trailer down on a steep incline and trigger downshifts to reduce brake use and wear.

The 2019 GMC Sierra will be available beginning in fall 2018. Talk to one of our team members to learn how you can secure yours today! Or if you're ready to start shopping now, see our online inventory to get the perfect truck for your needs.
Images courtesy of GMC Media
Join the Conversation
Comments
comments