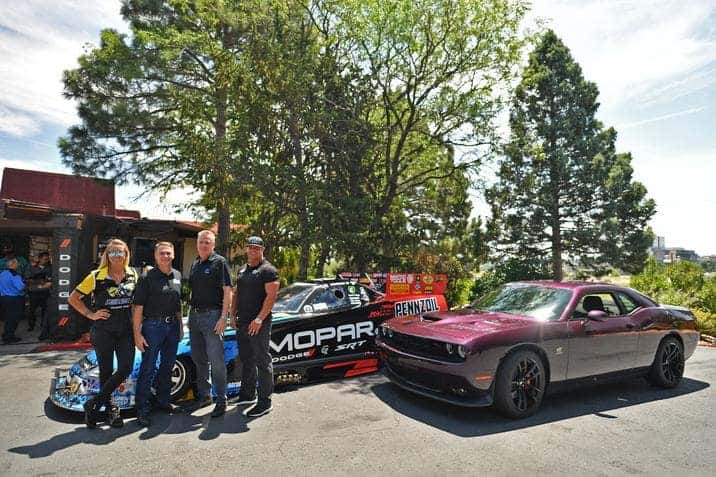 Dodge loves talking about the drag-strip prowess of its Dodge Challenger lineup. With models like the SRT Hellcat and Demon in the fold, who could blame the automaker? Now, it is adding a new model to the mix dubbed the 2019 Dodge Challenger R/T Scat Pack 1320.
So, what's with the "1320" at the end of the name? Well, that is the number of feet in a quarter mile. And Dodge specially tuned this coupe to live its life 1,320 feet at a time. It boasts the R/T Scat Pack's standard 392-cubic-inch HEMI V-8 engine that pounds out 485 horsepower and 475 pound-feet of torque. This power heads through an eight-speed automatic transmission and an SRT-tuned 3.09-to-1 limited-slip differential before heading to the rear wheels.
Helping it perform on the track is a handful of other performance goodies, including SRT-tuned Adaptive Damping Suspension with Drag Mode, Line Lock, TransBrake, Launch Assist, Launch Control, Torque Reserve, Brembo brakes, extreme-duty 41-spline half shafts, and Nexen SUR4G Drag Spec 275/40R20 street-legal drag radial tires.
All these performance goodies add up to an 11.7-seconds quarter-mile run at 115 mph and a 3.8-second 0-to-60 sprint — both are 0.3 seconds quicker than the standard R/T Scat Pack model and make it the quickest naturally aspirated muscle car.
Inside, things are simple — really simple. The 2019 Dodge Challenger R/T Scat Pack 1320 comes standard with only a driver's seat. Luckily, you can buy the other seats for just $1 each.
The exterior is also simple, but it will have a few bits that set it apart from the rest of the lineup. These include the Air-Grabber headlights, Black-Eye paint, low-gloss 20-inch aluminum wheels, new Angry Bee logo, and more.
The 1320 package will be a $3,995 premium on top of the 2019 Dodge Challenger R/T Scat Pack, putting its base price at $38,995. You also have to add the automatic transmission and destination fee, which are $1,595 and $1,395, respectively. Buyers can submit orders for the 2019 Challenger R/T Scat Pack 1320 later in 2018, and deliveries will start in early 2019.
Can't wait that long to get your hands on a Challenger? Stop by Garber Automall serving Green Cove Springs, Florida today to check out our in-stock Challengers. Or you can check out our online inventory.