Get Down to Business in a Silverado 4500HD, 5500HD, and 6500HD Chassis Cabs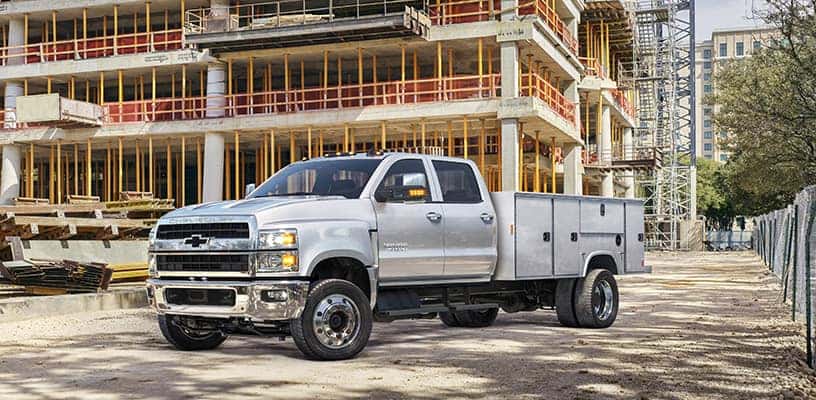 Get ready for a new kind of truck that offers dependability and capability that's customizable to your needs. We're talking about the 2019 Silverado 4500HD, 5500HD, and 6500HD Chassis Cabs, and they're here to help you get more done, no matter how tough the job is. These incredible cabs can handle heavier loads than ever, and you can upfit them to suit your business' needs. Plus, excellent maneuverability and advanced technology in the cabin will help you work smarter, not harder because when it comes to the job, the only word that matters is "done." Before these incredible trucks arrive later this year, check out what you can look forward to below.
Experience extreme muscle with the high-powered reliability of the Duramax® 6.6-liter turbo-diesel V-8 engine and Allison® transmission driving the all-new Silverado Chassis Cabs. These work-ready rigs also boast compact turning radii for superior maneuverability on the job site, thoughtful distinctions such as the flowtie – a Chevy bowtie emblem with no center section to allow better air flow – and  63.5-gallon fuel tanks so you can go farther between fill-ups.
The 2019 Silverado Chassis Cabs provide a strong, solid structures for you to customize to fit your needs. Their clean designs offer rail tops that are free of protruding brackets or welds to make it easy to upfit, and because they boast single-piece frames, they are solid and robust for enhanced durability. There is a wide variety of cab-to-axle options, so you can get exactly what you need to make your business more profitable. And the specialty paint on the chassis provides added protection against corrosion and other deteriorations so you can depend on your truck longer.
These trucks focus on function, but that doesn't mean you can't have some comfort too. The Silverado 4500HD, 5500HD, and 6500HD Chassis Cabs offer intuitive, comfortable, and smart cabins. Enjoy the inlaid, triple-seal doors that reduce outside road noise for a serene cabin experience that'll be like having an office on the go. Easy-to-reach control buttons, including up to 13 customizable auxiliary switches help make a range of tasks effortless. All of this continues to build on these trucks' proven high-strength durability and performance.
And with the available built-in 4G LTE Wi-Fi, you can connect up to seven devices to easily access apps, stream music, or work on the go. This signal is more powerful than the one on your smartphone, so make the smart choice and opt for the Wi-Fi that lets you get more done, wherever the job takes you.
Stop by to talk to a team member about locking in your 2019 Chevrolet Silverado 4500HD, 5500HD, or 6500HD. These heavy-duty workhorses will be available later this year. If you're ready to take home a Chevy truck today, take a look at any of our in-stock models now and pick the perfect one.
Images courtesy of Chevrolet Media
Join the Conversation
Comments
comments