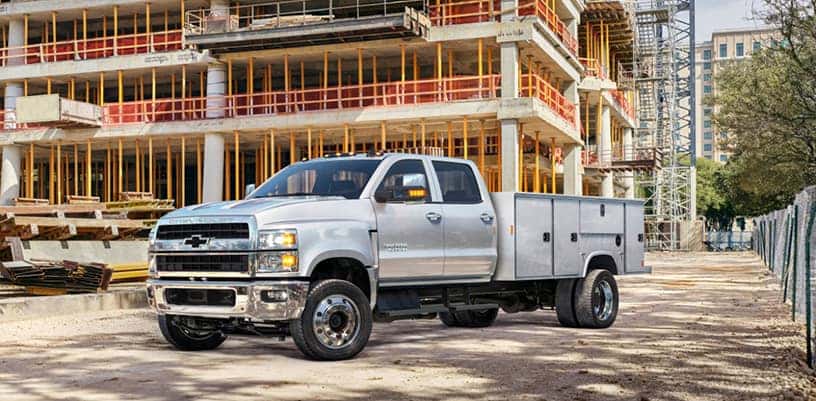 With a focus on upfitting, driveability, and serviceability, Chevrolet debuted the first-ever Silverado Class 4, 5 and 6 chassis cab trucks at NTEA The Work Truck Show last week. These three new models will be the most customer-focused, medium-duty trucks available to drivers across the market. The models are easy to upfit, highly capable, and exactly what drivers are looking for out of a truck on the job site. Check out what will be available on these exciting new models and then view our inventory of Chevrolet trucks currently in-stock to start shopping for your new truck today!
Chevrolet incorporated input from fleet managers, truck drivers, upfitters, technicians, and Chevrolet dealers to develop a pickup that would resolve any issues they had with the current truck lineup. The design team took the challenges presented to them and resolved them in the new 2019 Silverado 4500HD, 5500HD, and 6500HD. See the Chevrolet press release for a list of the issues the team was working to overcome.
To make upfitting easier, the new Silverado solution is to offer a factory-painted frame with one-piece frame rails, smooth, unobstructed top sections, and through-the-frame fuel fill lines. This will help prevent rusting on the frames, rivets, and brackets so you can have a more streamlined, and cost-effective, upfit. Discover more options at a better price with these vehicles and make a smarter purchase for the long-term.
With the intention to make these trucks easier to service, a new lightweight, front-hinged "clamshell" hood that, combined with a fifty-degree wheel cut, allows easy "walk-up" access to under-hood components. The team wanted to circumvent the need for technicians to use ladders or remove vehicle components to access under-hood areas for maintenance and repair. Keep your truck in top shape for longer with easier access to the engine.
Drive with more precision thanks to an intentionally crafted and contoured hood that optimizes the driver's perspective of the road. Maneuverability is excellent thanks to up to fifty-degree wheel cuts. Say good-bye to massive turning radiuses and poor low-speed driveability. Now you'll have great visibility and more agility without sacrificing the power you need.
Get a smoother ride and quieter cabin, with an available, factory-installed rear air suspension, that's not available on a Ford or Ram truck. These Silverados come with triple-sealed, inset doors to help reduce wind and road noise as well as huck bolts used throughout the frame for superior clamping force to deter vibration. You'll have smooth sailing at a comfortable noise level.
"It's not just numbers on a spec sheet that make us different and better," said John Schwegman, director of Commercial Product and Medium Duty at GM Fleet. "These new Silverados are designed to solve the most common upfit and ownership challenges fleets have with many of today's medium-duty trucks."
Production isn't set to begin until late 2018, but Order Guides will be available in the next few months with prices to follow in the summer. Talk to a team member today about securing your new truck or fleet of vehicles. We'll help you customize your new Silverado to look and drive exactly how you want it. View our current inventory now to start shopping with us today!
Images courtesy of Chevrolet Media