Check Out the Brilliance of the Buick LaCrosse's Light Electrification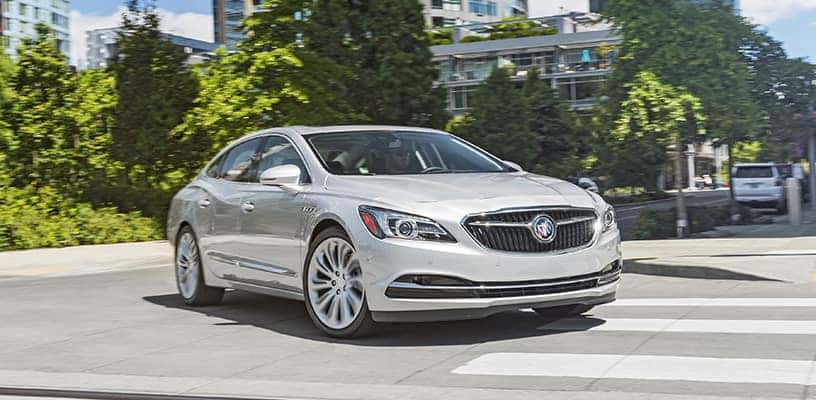 Not only is the 2018 Buick LaCrosse the flagship sedan for premium amenities and features but also for fuel-saving tech that lets you go a little farther on each tank of gas. This full-size car expands Buick's technological credentials by adding eAssist light electrification on this 2018 model. Combining an electric motor with the latest 2.5-liter four-cylinder engine helps deliver quiet, refined, and efficient performance. Plus, you know you can count on top-shelf options like the available heated steering wheel and available OnStar subscription.
When compared to the V-6 engine, the electrically assisted inline four-cylinder engine offers a 19 percent increase in city fuel economy at 25 mpg city and 35 mpg highway. The eAssist inline-four uses a compact lithium-ion battery pack to provide choice benefits found in plug-in vehicles, such as torque-assisted launch and energy-saving regenerative braking. This lightly electrified engine is the standard powertrain for the 2018 LaCrosse, starting this fall.
"Executing innovative technologies in an approachable and meaningful way is core to Buick," said Duncan Aldred, vice president, Global Buick and GMC. "By adding the eAssist system to the LaCrosse, our technology flagship, we are making electrification accessible to our customers as we chart our course to the future of mobility."
This new version of the Buick eAssist is more sophisticated and compact than before. It delivers a 9 percent increase in torque so you don't sacrifice the responsiveness you expect in your full-size sedan. And Buick packaged the newest eAssist system to maintain the LaCrosse's fold-down rear seat and ample trunk space — the V-6-powered LaCrosse offers 15 cubic feet of trunk space to the eAssist's 14 cubes.
Buick's eAssist propulsion system combines a compact electric motor fueled by a 24-cell 0.45-kilowatt-hour lithium-ion battery pack with the 2.5-liter four-cylinder gasoline-fueled engine to enhance efficiency and maintain refined performance via the following technologies:
Motor Generator Unit (MGU): Replaces the traditional alternator and acts as an electric motor to assist the engine when needed. It also acts as an electric generator that recharges the lithium-ion battery pack.
Electric Assist: The MGU's electric motor function provides a power boost for a smooth launch from the Auto-Stop mode. It funnels additional torque to the engine when needed to optimize overall driving performance and efficiency.
Regenerative Braking: When braking or coasting, the regenerative-braking system converts some energy normally lost into electricity through the MGU and stores it in the lithium-ion battery pack.
Lithium-Ion Battery Pack: The 86-volt lithium-ion battery pack, which Buick has repackaged to be more compact, stores energy captured during regenerative braking. This energy powers the electrical system when the vehicle is in Auto-Stop mode. It also powers the MGU to provide a smooth launch from Auto-Stop mode or additional torque to the engine as needed.
Seamless Stop/Start Technology: Contributes to added fuel savings by turning off the engine when in Auto-Stop mode at a stoplight or in heavy traffic and restarting when the driver's foot lifts off the brake pedal or presses the accelerator.
Aero Improvement: Upper and lower active aero shutters in the front fascia close under certain driving conditions to help maximize aerodynamics and contribute to improved fuel economy.
Inside, the Buick LaCrosse offers heated and ventilated front seats to keep you comfortable in chilly and warm weather. New for the 2018 LaCrosse, the front seats come with a back-massaging option so you can arrive relaxed and rejuvenated at your destination. Advanced tech like triple door seals and acoustic windshield keeps road noises outside so you can hear the Bose surround sound system clearer. And you'll stay connected thanks to the 8-inch touchscreen with Buick's IntelliLink infotainment system that includes Android and Apple CarPlay for quick access to your favorite apps.
If you're ready to add a little hybridization to your comfortable sedan, the 2018 Buick LaCrosse has what you're looking for. You can pick yours out from our online inventory and stop by to test drive it today.
Images courtesy of Buick Media
Join the Conversation
Comments
comments