5 Ways to Drive Smarter with a Chevy Volt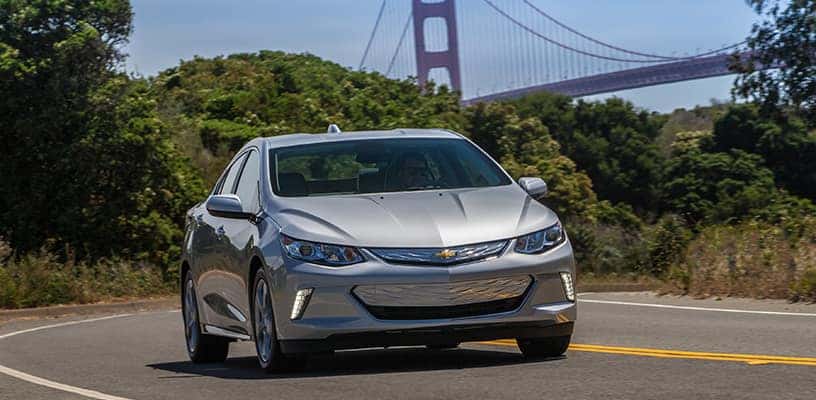 Chevrolet builds comfort and convenience into every vehicle, and the 2018 Volt is no exception. There's smart tech under the hood that leads to up to 420 miles of total range with a full charge and up to 1,100 miles from one tank of gas and regularly charged battery. The available leather seats offer durability and an upscale aesthetic in the cabin that's matched with creature comforts like heated front and rear seats. Take a look at some of the most notable reasons to drive a 2018 Chevrolet Volt.
Regen on Demand
Earn electric power back each time you brake. With the pull of the paddle on your steering wheel, you can slow down your Volt without touching the brake pedal and regenerate power for your battery. The regen-on-demand system converts the energy braking creates into power for the battery.
Easy Charging Options
Put your range anxiety to rest by making it part of your routine to charge your Volt right at home. Professionals can install the AeroVironment's Level 2 with a 25-foot cord to let you charge your Volt up to 2.5 times faster than plugging it into a household outlet. It's easy to use, looks good, and rated for indoor or outdoor installation. A professional can also install the available 240-volt charging unit that charges the battery in about 4.5 hours. There is also an included 120-volt portable charge cord that will charge the battery in about 13 hours.
Feel Good About Your Footprint
Altogether, Chevy Volt owners have driven more than 650 million all-electric miles, saving 34 million gallons of gas, and that number is still growing. Volt drivers manage to drive electric more than 80 percent of the time. According to Chevrolet, the average daily round-trip commute is only about 40 miles. That means the Volt offers enough EV range to make the average round-trip commute and still have range to spare for errands on the way. Do your part to contribute to making our Earth a little cleaner by burning less fossil fuels.
Driver-Friendly Tech
The 2018 Chevrolet Volt comes well-equipped with Chevrolet's MyLink infotainment system displayed on an 8-inch touchscreen with Apple CarPlay and Android Auto, Bluetooth phone and streaming audio, satellite radio, and two USB ports. The Volt also comes standard with an 8-inch LCD driver's instrument panel screen that displays how much energy is left in your battery and where you're using the most energy. You'll get real-time information on the Driver Information Center that you can use to make each charge go farther.
Helps Teens Learn Healthy Driving Habits
The 2018 Volt offers the Teen Driver feature that helps you teach your new driver smart habits behind the wheel. Teen Driver is a built-in system that lets parents know how their teenager drove the vehicle and implements restrictions like muting audio when the front seat occupants aren't wearing safety belts, and giving audible and visual warnings when the vehicle is traveling over predetermined speeds. You'll even get report cards you can go over with your kids to learn more about safe driving.
There's a lot to love about the Chevrolet Volt, and you'll discover it all when you stop by Garber today to test drive this plug-in hybrid. Test drive it on your normal commute to see how smart and smooth your drive could be in a 2018 Chevrolet Volt. Check out our online inventory now to see if we have it in your favorite color.
Images courtesy of Chevrolet Media
Join the Conversation
Comments
comments