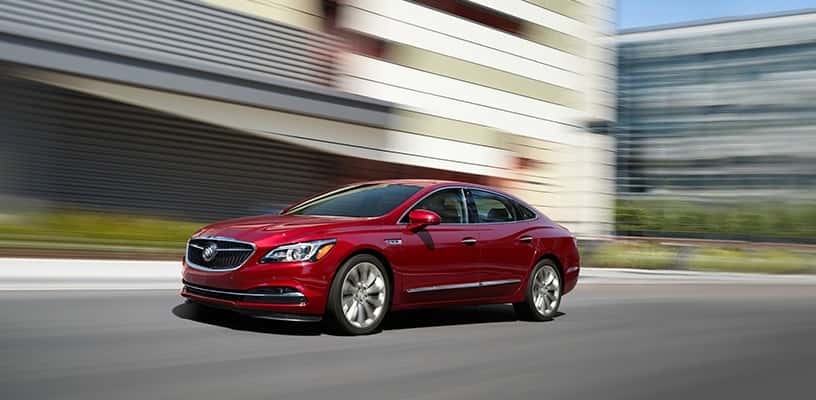 For the 2018 model year, Buick is adding a number of new features and options for the whole lineup. The 2018 Buick LaCrosse will be the pioneer for many of these, most notably the eAssist system to complement the four-cylinder engine and provide quiet, refined, and efficient performance. The latest LaCrosse model goes on sale this fall – contact a team member for more information about securing yours.
The combination of an electric motor with Buick's sophisticated 2.5-liter four-cylinder engine provides a 19 percent increase in city fuel economy when compared to the LaCrosse's advanced V6 engine. It leverages a lithium-ion battery pack to provide benefits like torque-assisted launch, energy-saving regenerative braking, and exceptionally smooth stop/start. Buick is committed to providing its drivers with cutting-edge technology that improves their experience with every drive.
"Executing innovative technologies in an approachable and meaningful way is core to Buick," said Duncan Aldred, vice president, Global Buick and GMC. "By adding the eAssist system to the LaCrosse, our technology flagship, we are making electrification accessible to our customers as we chart our course to the future of mobility."
Despite the excitement over the new hybrid option, the V6 engine is receiving some upgrades as well. Now with the V6 models, you'll have more availability to opt for all-wheel-drive and experience a silky-smooth shifting thanks to a new nine-speed automatic transmission. Within a year this new transmission will be available in five other vehicles as a response to customer demand.
In addition to technological advances, the Buick LaCrosse will be the first to get three new color options for the exterior: Satin Steel Metallic, Dark Slate Metallic, and Red Quartz Tintcoat (shown above). Take a look at our current inventory of new Buick LaCrosse vehicles and start shopping for your new vehicle today!
About eAssist
Buick's eAssist propulsion system combines a compact electric motor and an advanced 24-cell air-cooled 0.45kWh lithium-ion battery pack with the 2.5L four-cylinder gas engine to enhance efficiency and maintain refined performance through:
1. Motor Generator Unit (MGU): Replaces the traditional alternator and acts as an electric motor to assist the engine when needed. It also acts as an electric generator providing the energy stored in the lithium-ion battery pack.
2. Electric Assist: The MGU's electric motor function provides a power boost for an extremely smooth launch from the Auto-Stop mode. It funnels additional torque to the engine when needed to optimize overall driving performance and efficiency.
3. Regenerative Braking: When braking or coasting, some of the energy normally lost is converted to electricity through the MGU and stored in the lithium-ion battery pack.
4. Lithium-Ion Battery Pack: The 86V lithium-ion battery pack, which has been repackaged to be more compact, stores energy captured during regenerative braking. This energy powers the electrical system when the vehicle is in Auto-Stop mode. It also powers the MGU to provide a smooth launch from Auto-Stop mode or additional torque to the engine as needed.
5. Seamless Stop/Start Technology: Contributes to added fuel savings3 by seamlessly turning off the engine when in Auto-Stop mode (e.g., at a stoplight or in heavy traffic) and restarting when the foot lifts off the brake pedal or presses the accelerator.
6. Aero Improvement: Upper and lower active aero shutters in the front fascia close under certain driving conditions to help maximize aerodynamics and contribute to improved fuel economy.
Image courtesy of Buick Media