For a vehicle that hasn't even made it to the showrooms yet, the 2017 Chevrolet Bolt EV is creating quite a buzz. It has won three well-deserved awards, including Motor Trends Car of the Year as well as making Car and Driver's Top Ten List, and is being marked as a game changer for the electric car lineup. It's clear that critics have chosen this as the "electric car for the masses."
Last week at the 2016 LA Auto Show, the Chevy Bolt was named 2017 Green Car of the Year by the Green Car Journal. The competition was fierce as all five cars in the lineup were plug-ins, but the factors that really set the Bolt apart were the price tag, the mileage per charge, and its timeliness.
The Bolt EV is due in dealerships by the end of next month at an amazing $37,500 before incentives and with federal and state tax incentives this vehicle could only cost you $30,000, making the 238-mile battery-charged sedan easily accessible to most new car buyers. The other contenders, the BMW 330e iPerformance, Chrysler Pacifica, Kia Optima and Toyota Prius Prime, could not match the affordability and approachability the Chevy Bolt offers.
A hatchback crossover, the Chevrolet Bolt EV has four-doors and seating for five easily. It's powered by a 200-horsepower electric motor and 60 kWh lithium-ion battery pack that allows it to easily beat 200 miles per charge. The battery can be charged with a standard household 120-volt outlet, a 240-volt outlet for quicker charging or an optional SAE DC (direct current) fast charge port for an even faster charge.
Beyond the magnificent motor, this sedan comes with all the best of Chevrolet convenience standard. You'll find a 10.2-inch touchscreen, aluminum wheels, passive entry, satellite radio and Bluetooth connectivity. The MyChevrolet Mobile App allows drivers to communicate with their Bolt EV from their smartphones – it uses a real-time data connection to perform tasks such as setting the charge time, displaying charge status.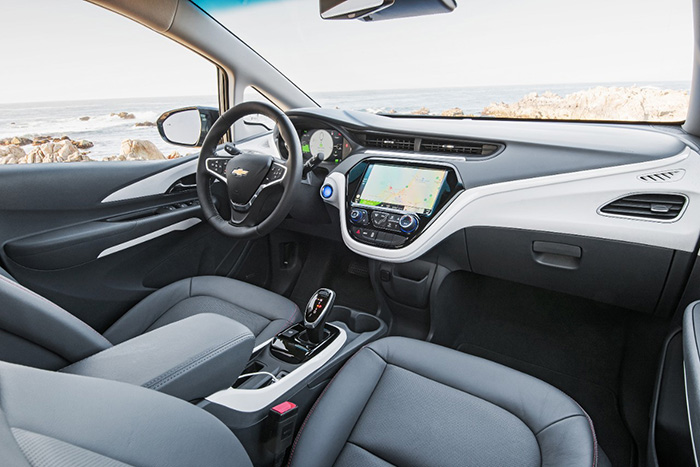 Safety features include 10 airbags, traction and stability control, rear camera, Teen Driver mode and self-sealing tires. The Premium trim adds a surround camera system, blind spot detection, rear cross traffic alert and rear park assist with the option to add forward collision alert and braking, lane keep assist, pedestrian braking and auto high beams. With all these great features, it's no wonder the Chevrolet Bolt EV is winning awards.
While the Bolt EV isn't at the dealership yet, it will be rolling in soon – for some as early as next month. Please contact us if you'd like to be on our list of those who would like to be notified as soon as this hybrid hatchback is available. Take a look at the Chevrolet Volt in the meantime if you're looking for a hybrid vehicle to purchase now!
Photos courtesy of Chevrolet Media