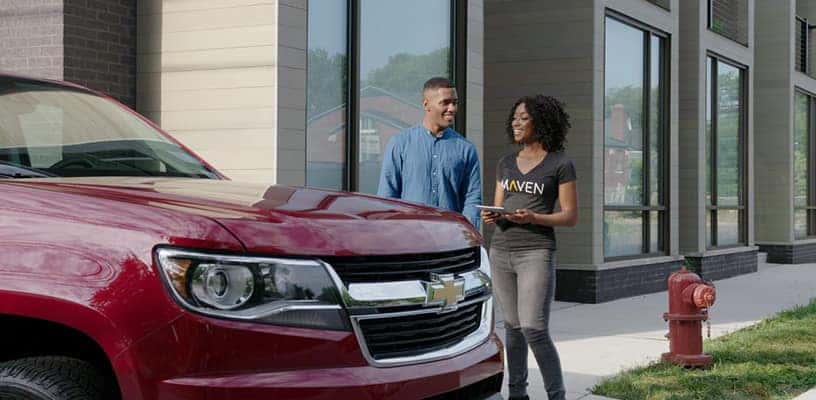 With Maven, you can now make money off of your late-model Buick, GMC, or Chevrolet vehicle when you're not using it. GM's mobility unit, Maven, is testing a peer-to-peer car-sharing opportunity in Chicago, Detroit, and Ann Arbor, MI that's described as Airbnb for cars. So if you have a 2015 vehicle or later and are looking to make a little extra money when you're not using your car, this app might be for you.
Car owners will keep 60 percent of the fee charged through the app's platform and the rate per trip will depend on the car. Eligible name plates include Chevrolet, Buick, GMC, and Cadillac. Maven recommends charging $7.25 per hour or $80 per day for Chevy Cruzes, $14.50 per hour or $145 per day for GMC Sierras, and $22.50 per hour or $225 per day for Chevy Camaros.
Maven also offers a $150 monthly bonus to those users who list their vehicle for 50 percent of the month after the first three months.
If you're looking to make a decent chunk of change out of this, you're in luck. Provided your vehicle gets rented and you don't sell yourself short on your offer. Using different vehicles as examples, Maven's site claims owners can make anywhere from a few hundred to more than $1,000 each month if the vehicle is rented out for a full week. Payouts take place every month and are transferred directly to a bank account.
"Your car is one of the most expensive things you own. Sitting idle, it is a wasted asset," Julia Steyn, vice president of GM Urban Mobility and Maven, said. "It's time to put your car to work. Maven's peer-to-peer offering is a smart way for owners to offset their vehicle investment."
GM's million-dollar insurance policy covers all vehicles, and Maven promises to vet all drivers thoroughly before they taking your personal car for a spin. And with the 2015 and later models, all vehicles have GM's OnStar telematics so owners won't need to give up physical keys, when you sign up for Maven you will install a device for keyless access. If your vehicle has the hardware for a 4G LTE Wi-Fi hotspot, Maven will allow the renters to access that even if the owner does not have a subscription at no extra cost to the owner.
This process is still in beta, and the data from these three cities will help shape the future of this program when it rolls out nationwide.
"We're testing Peer. The Beta helps us better understand the owner part of the equation – what do they need, how do they like to be engaged, does the app meet their needs, etc.," said Annalisa Bluhm, a GM spokeswoman. "It's very much an important and necessary learning process ahead of full commercialization."
If you're looking to test drive one of these sought-after vehicles, stop by to see our current inventory and take them for a test drive. Getting a new vehicle has never looked so good when you can help offset the cost with Maven's app.
Eligible vehicle owners can start the process of listing their car with Maven by enrolling through the website. For more information on the program and to enroll, visit Maven's in-depth overview to have your questions answered. Owner support is available 24 hours a day, seven days a week from trained Maven and OnStar advisors.