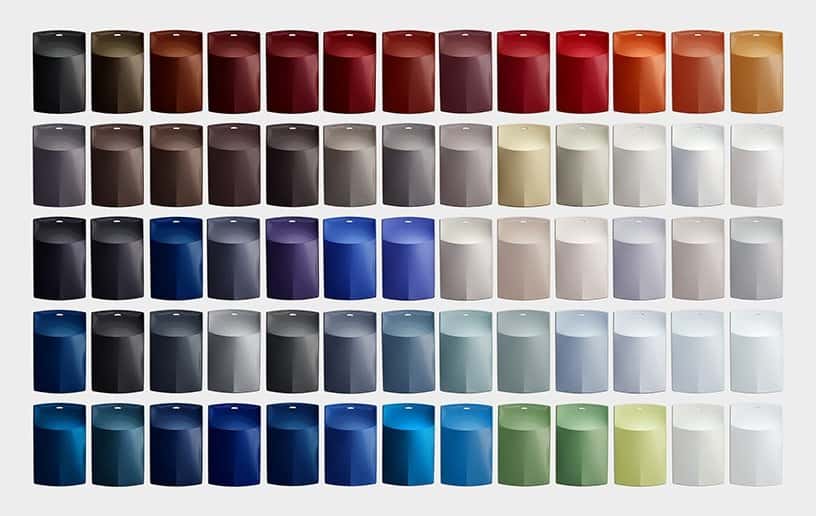 Every year, paint-color leader for the auto industry BASF provides predictions for the future of car paint colors for the next few years, and they say that tones are cooling down with more blue undertones. The classic colors such as black, white, silver and gray are expected to have traction still, but blue shades are expected to surge in popularity over the next four to five years. BASF released a design book with 65 samples of what they anticipate
BASF's predictions are based on a wide array of data, including what sold well in previous years as well as observations of trends in art and designs across multiple industries. Head of Design for BASF's Color Division, Paul Czornij, says some of the reasons we can expect cool undertones and neutrals that lean towards blue is because that color tends to do well with buyers in the used market and new car buyers are thinking ahead. BASF also notes that blue is representative of both technology and nature aspects which tends to do well with North American purchasers.
"Blue continues to gain strength as an automotive color position, and it has a calming effect and a strong correlation with natural things, which is why we selected Undercurrent Blue as our key color for this region," according to Czornij.
Many of the off-white shades are less creamy and warm; instead, they are leaning toward cooler undertones and bluer hues. Some other trends to look out for include more pearly options and metal flake paints that show off the angles and curves of the vehicle body effectively. However, Czornij has also seen a significant rise of matte paint styles, too. To see the full outline of forecasted colors for the North American region, see the post on the BASF website.
Browse our new car collection to find the vehicle color you like and come take a test drive today!
Image courtesy of BASF Images