The Ford Mustang Cobra Jet Turns 50!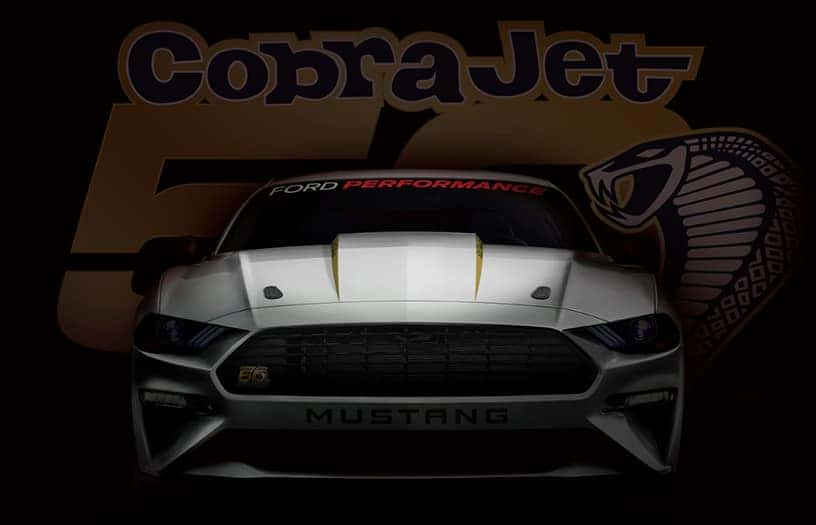 Even though the legendary Ford Mustang Cobra Jet is turning 50, it's quicker and more spirited than ever before. For the 50th anniversary, Ford is coming out with a new Mustang Cobra Jet that will be the most powerful and quickest version direct from the factory ever – you can expect it to be capable of running the quarter-mile in the mid-8-second range while topping 150 mph without breaking a sweat. This legacy-setting performance pony has been gracing staging lanes and drag strips for five thrilling decades and it's not even close to slowing down. Check out what's coming for the 50th Anniversary Mustang Cobra Jet and then see our current inventory of Mustangs online now!
"From the very first Mustang Cobra Jets dominating the 1968 NHRA Winternationals to our modern-day Cobra Jet racers, the Ford Performance Parts team continues to build the Cobra Jet brand based on its success at the track over five decades," said Eric Cin, global director, Ford Performance Parts. "That, in turn, has inspired generations of Mustang fans to create their own performance machines for the street."
With ongoing innovation by Ford Performance Parts, this new performance-focused drag racer was developed on the 2018 Ford Mustang platform and is limited to 68 non-VIN production cars. You'll love the supercharged 5.2-liter Coyote V8 engine with its throaty growl and undeniable power. This engine comes connected to a unique four-link rear suspension, along with a Ford 9-inch solid rear axle from Strange Engineering. Racing add-ons include NHRA-certified roll cage, Racetech FIA seats, and a drag race-specific coil-over suspension with specially designed Weld Racing wheels with 50th anniversary badging so you can show off the proud heritage of your speed demon.
The result of such creative engineering is a turnkey racer that showcases many performance add-ons available from the Ford Performance Parts catalog for Mustang dating back to the original 1968 Cobra Jet. Offered in either Race Red or Oxford White, the 2018 Mustang Cobra Jet features an available commemorative 50th-anniversary graphics package and anniversary badging.
Final 2018 Mustang Cobra Jet ordering and product specifications will be released this summer. The car is designed to be legal for National Hot Rod Association drag racing, along with several National Mustang Racers Association and National Muscle Car Association classes.
But if you want to get behind the wheel of a heart-pounding Ford Mustang today, stop by and allow us to help you test them out. You can see our complete inventory of in-stock Mustang models online now so you can start your shopping experience before you even make it to the door. Talk to a team member today to learn more about how we can give you a great deal on a car you love.
Images courtesy of Ford Media
Join the Conversation
Comments
comments