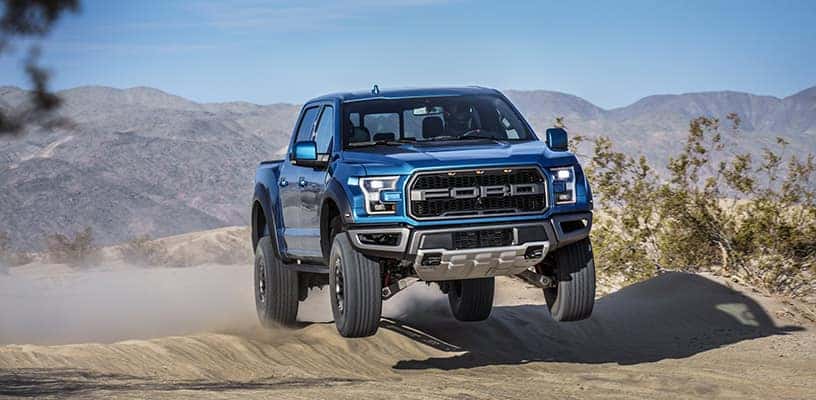 Ford is making the ultimate high-performance off-road pickup even better with new technology and upgraded features inside and out. The 2019 Ford F-150 Raptor's improvements are focused on the outstanding features that have already made it the benchmark in the off-road truck segment, to make it even tougher, smarter, and more capable on the trails. You can look forward to class-exclusive, electronically controlled FOX™ shocks, new Trail Control™, and all-new Recaro sport seats. See more details below and then check out our current inventory of Ford F-150 trucks to start browsing for yours today!
"Raptor's success is rooted in its incredible suspension, superb vehicle control and the confidence the truck instills in its owners," said Hermann Salenbauch, global director, Ford Performance vehicle programs. "Upgrades to the 2019 F-150 Raptor have improved all three to new levels that the competition will have to benchmark – again."
The beastly engine in the F-150 Raptor wouldn't be the same if it didn't have the unparalleled suspension and shocks to keep it in line. The Raptor's suspension upgrades make it even more capable of clawing away at the terrain and delivering more enjoyment on the trails. To enhance it's already proven internal bypass shocks, Ford Performance worked directly with FOX to develop all-new electronically controlled Live Valve technology for the new platform that continuously adjusts damping in real-time. This class-exclusive setup uses sensors in the suspension and body to maximize comfort, handling, and bottom-out resistance.
The 2019 Raptor also got a new Terrain Management System™ with Live Valve suspension technology to increase the truck's high-speed off-road capability while also enabling smooth on-road driving performance.
"Not many trucks need sensors to detect when you are midair," said Salenbauch. "Raptor sets the dampers to full stiffness to help smooth shock performance as the truck lands."
Plus, the all-new Trail Control helps the 2019 F-150 Raptor navigate challenging conditions with better low-speed performance. This feature is like cruise control for low-speed, rocky terrain, and automatically adjusts power and braking to each individual wheel to allow you to focus on steering over rugged terrain. Trail Control can be activated at speeds from 1 mph up to 20 mph depending on driveline position.
Raptor's aggressive exterior gets even more intense for 2019 with eye-catching new colors including Ford Performance Blue, Velocity Blue, and Agate Black. An enhanced rear appliqué and available newly designed beadlock-capable wheels round out the new look.
While this truck doesn't go on sale until late 2018, you can still get a great deal on a Ford F-150 today with any of our in-stock trucks today! See our online inventory now or talk to a team member about securing your new Raptor when they become available.
Images courtesy of Ford Media