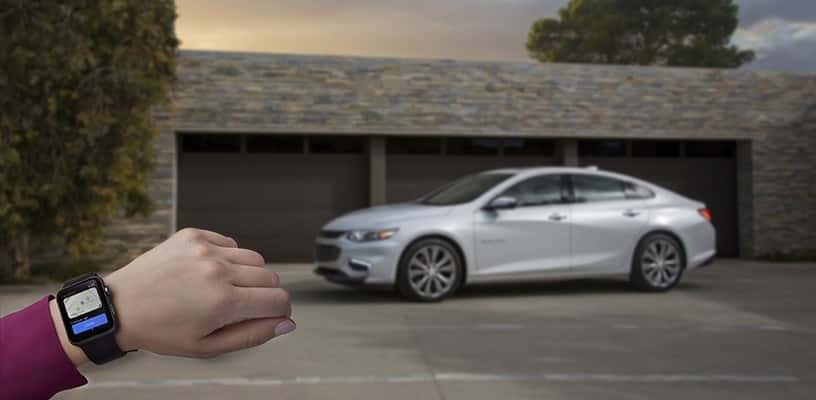 Taking care of your Chevrolet vehicle just got even easier for Apple users thanks to the new MyChevrolet app for Apple Watch. With this app you can now remote start and stop your vehicle, lock and unlock the doors, activate and cancel the horn and lights, locate their vehicle and receive walking directions to where you parked. This is just another example of how Chevrolet goes the extra miles for its customers.
"The use of the myChevrolet app by our owners continues to grow across the entire vehicle lineup, so expanding its availability to Apple Watch was a natural next step and allows us to offer another easy way to manage key vehicle functions remotely," said Paul Edwards, Chevrolet U.S. vice president of Marketing. "Whether you want to cool down your Malibu on a hot summer day or locate it after attending a crowded baseball game, Chevrolet owners can now make that choice from their iPhone or Apple Watch."
Vehicle commands through phone apps were first introduced in 2010 with the help of the OnStar RemoteLink app. But in 2016, the myChevrolet app and the OnStar RemoteLink app combined to provide drivers more control when and where they need it. With the current myChevrolet app, you can request roadside assistance, set parking reminders, access owner's manual content, look up vehicle diagnostics, use the Wi-Fi hotspot and use the key fob commands like remote start and door unlock.
"The myChevrolet app allows customers to seamlessly interact with their vehicle in a variety of ways, like checking vehicle diagnostics, sending navigation requests or locking the doors," said John McFarland, director of GM Global Digital Experience. "As a result, customers who use the myChevrolet mobile app are some of our most loyal and satisfied Chevrolet owners." 
Chevrolet estimates that nearly 1.4 million Chevrolet owners have downloaded and use the myChevrolet app regularly. Drivers of the Silverado, Malibu, and Equinox owners are among the most active on the app with Malibu owners logging in and using the app nearly 8.5 million times to date in 2017 alone. Usage of the app keeps increasing every year and this product shows Chevrolet's commitment to continue to innovate and accommodate its drivers in ways that keep pushing boundaries.
The myChevrolet app for the Apple Watch is already available in the US, Canada, and Mexico with language settings for English, Spanish, and French. All new Chevrolet retail models come with the OnStar Basic Plan, which also features remote vehicle access and the AtYourService marketplace via the myChevrolet mobile app, among other features.
Images courtesy of Chevrolet Media