GM Extends Its Military Discount to 3 Years After Discharge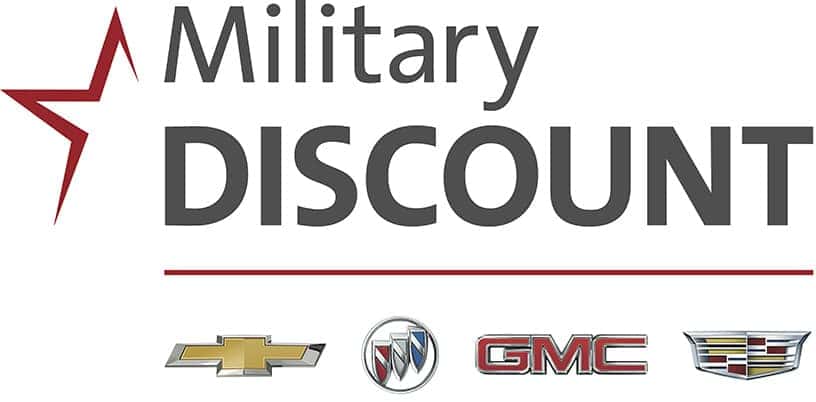 In a bold and generous move to assist veterans and their families more, General Motors recently announced that all four of its car brands – Chevrolet, Buick, GMC, and Cadillac – are extending the GM Military Discount to three years after discharge instead of the former two. This move makes it the best military discount in the car industry program of its kind for active duty, reserve members, and military retired from the United States Army, Air Force, Navy, Marines, Coast Guard, and National Guard. If you or your loved ones are in the military, you can take advantage of this incredible discount, see our online inventory now to start shopping for your new car!
"Supporting service members and their families is truly part of our fabric at GM," said Steve Hill, vice president, U.S. Sales, Service, and Marketing. "Extending the discount to three years post-service allows military families to settle back into civilian life and take the time they need before purchasing a new vehicle."
Every other aspect of the program remains the same, but now you have more time to select the transportation that fits your future. Soldiers and sailors, and members of their immediate families qualify for a special discount on new vehicles at participating dealers. Effective immediately, those who serve and their families can take advantage of the discount for up to three years after discharge. For more information about which vehicles are eligible, see GM's official page.
GM is proud to employ more than 6,000 veterans in a variety of roles. For four years in a row, GM has earned awards as the top automotive employer for veterans and their spouses in the Military Times' "Best for Vets" and VIQTORY's "Military Friendly® Spouse and Gold Employer" rankings. The companies on these lists earn their rankings by recruiting and supporting veterans and military families.
Who Is Eligible for the GM Military Discount?
You can get exclusive pricing on eligible, new vehicles are any of the following: Active Duty members, Reservists, National Guard members, Veterans within one year of discharge date, and Retirees of the U.S. Army, Navy, Air Force, Marine Corps, and Coast Guard. Bring in your ID and get ready to test drive one of our exciting cars, trucks, or SUVs that fit your needs.
Which vehicles are eligible for the GM Military Discount?
Look forward to test driving many exciting new and unused 2018 and 2017 GM vehicles. This includes cars; SUVs; crossovers; midsize, light-duty and HD pickup trucks; and passenger and cargo vans are also eligible to help you start your new business. See a complete list of eligible vehicles. Vehicle eligibility may change over time, so check in before you buy.
Need Help Financing?
GM gives eligible service members more than just a great discount. We'll help you make that new vehicle even more affordable for you with custom finance options from GM Financial. You can apply for a line of credit that will put reliable transportation within your reach, and feel good about your new vehicle.
Bring in your old vehicle and we'll give you a great deal on a trade in to help get you started. It's not too soon to start shopping for your new car, truck, or SUV from GM, see our complete inventory now! Visit www.gmmilitarydiscount.com for complete program details.
Images courtesy of GM Media
Join the Conversation
Comments
comments