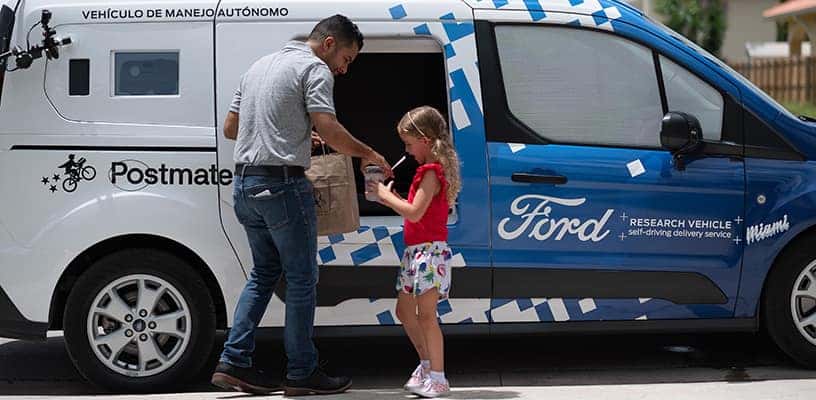 When it's time to order dinner, your ordinary food-delivery order through Postmates could help do something extraordinary: shape the future of self-driving vehicles. Ford and Postmates are teaming up to create an on-demand delivery platform with self-driving vehicles bringing your food faster, fresher, and right to your curb. This program will help both companies learn how to provide quick, easy, and future-focused delivery service.
The over 70 businesses are taking part in a pilot program already underway in Miami and Miami Beach. Residents can order tacos, hardware, and even pet supplies through the Postmates app and a Ford Transit Connect research vehicle will deliver it. The Postmates app will give the recipient a code to enter on the vehicle's touchscreen when it arrives to retrieve their order from one of the secure lockers.
The research vehicles have drivers while the program tests out other parts of the process. They want to make sure the businesses can use the app to deposit the requested items in the Transit Connect and recipients can unlock the lockers when the vehicle arrives. Once they know customers are receiving the best experience possible, the vehicles will deliver autonomously.
Traffic in big cities like Miami and the surrounding area turns into congestion that makes it difficult for deliveries to arrive on time. With autonomous vehicles making deliveries from multiple sources, we hope to reduce the number of vehicles on the road and ensure speedy deliveries. This process will take time, but Ford is paving the way to understanding how to make this a reality.
Ford strives to release the potential that autonomous technology holds for the future. By collaborating with Postmates, both companies learn how they can improve their customers' lives in an efficient and intuitive way. Autonomous driving is an achievable goal for our future and testing how businesses and consumers interact with a self-driving vehicle is a step in that direction.
Below is a short video on Ford's self-driving research vehicle with Postmates in action. You can see it engineers modified it to test a variety of interfaces  —  the touchscreen, the locker system, the external audio system — required for our purpose-built self-driving vehicle that's scheduled to arrive in 2021.

If your business could use a commercial vehicle that's spacious, versatile, and durable, check out the Ford Transit Connect. The long-wheelbase model has 128.6 cubic feet of cargo space behind the front seats and 149 cubes with the passenger seat folded. You'll love the 1,610 payload capacity and up to 2,000-pound towing capacity when equipped with the Trailer Tow Prep Package. Plus, the longer design offers you a perfect place to put your business' logo so you can show off your brand everywhere you go.
Shop at Garber Automall for an innovative commercial van that's as ready for the next big job as you are. Check out our in-stock Ford Transit Connect vehicles now.
Images courtesy of Ford Media