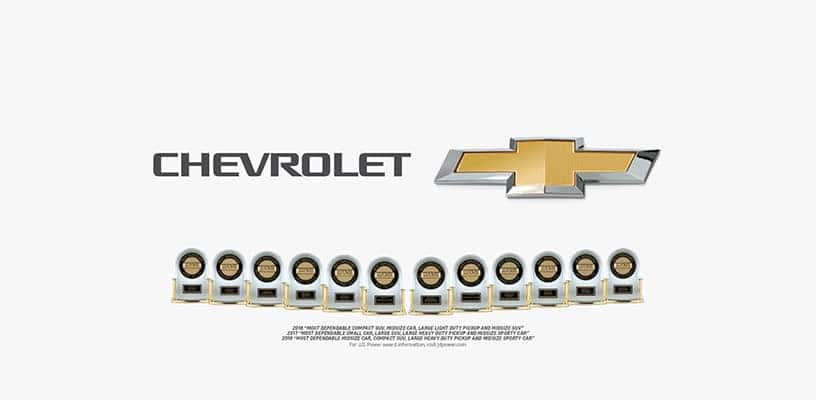 For the 2017 model year, no other brand received more awards from the standard-setting J.D. Power than Chevrolet. At the Automotive Summit last week, just ahead of the National Association of Auto Dealers Convention, six different Chevrolet cars, trucks, and SUVs won a grand total of nine awards from J.D. Power in the 2017 categories for Vehicle Dependability, Initial Quality, and APEAL Studies. Chevrolet is proud to continue innovating and elevating the expectations of what a vehicle should be for its driver to make your commute easier, more comfortable, and safer.
"Chevrolet is winning with consumers because our designers, engineers, and dealers are focused on delivering great products and a great ownership experience," said Alan Batey, president of GM North America and brand chief of Global Chevrolet. "This recognition from J.D. Power shows Chevrolet's strength and underscores the momentum we have across the board."
According to J.D. Power, "These awards highlight the automotive brands that are continually exceeding customer expectations and leading the way in terms of dependability, quality, and overall customer satisfaction."
Chevrolet is thrilled to list its 2017 J.D. Power Vehicle Awards:
Vehicle Dependability Study examines issues reported by original owners of 3-year-old vehicles to determine which cars are the most reliable:
*Based on 2014 models
Initial Quality Study measures problems experienced during the first 90 days of ownership:
Automotive Performance, Execution, and Layout Study (APEAL) measures owners' emotional attachment and level of excitement across several attributes:
Beyond the exceptional quality of the vehicles offered through Chevrolet, dealers also earned high scores among in two other influential studies that show buying a Chevy vehicle is a great experience from buying process to monthly maintenance service appointments to long-term ownership. The 2018 J.D. Power Customer Service Index (CSI) Study, which measures customer satisfaction with maintenance or repair work among owners and lessees of 1- to 3-year-old vehicles proved that Chevrolet helps you maintain the excellence built into your vehicle. And the 2017 Sales Satisfaction Index Study, which measures customers' new vehicle purchase experiences from product presentation to final delivery. Each survey included feedback from 28,000 to more than 70,000 customers.
Our team is ready right now to help you find the perfect new, used, or certified pre-owned Chevrolet vehicle that fits your driving needs and your budget. We'll ensure that you find one that matches your unique style, too, so you're excited to get behind the wheel for every trip. We proudly accept all financial applications because we believe reliable transportation is a must for our community, and we'll do everything in our power to help you drive away in a deal you love. Apply online now using our fast, easy, and secure application.
For more information about the 2017 J.D. Power Awards, visit their website now.
Images courtesy of Chevrolet Media