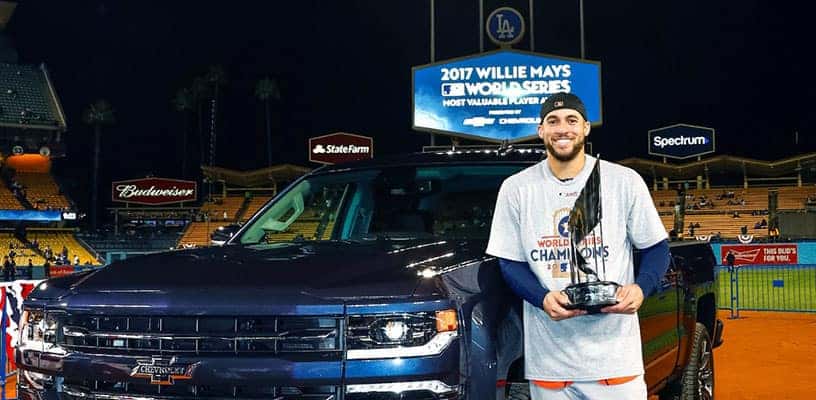 To celebrate the strong performance of 2017 Willie Mays World Series Most Valuable Player George Springer, Chevrolet presented him with a 2018 Chevrolet Silverado Centennial Edition pickup. Springer helped the Houston Astros win the first World Series championship in their franchise history and was chosen as MVP by a media panel and online fan votes on MLB.com, the club sites and the MLB.com At Bat app. Chevrolet is the Official Vehicle of Major League Baseball and is proud to award Springer with this year's prize.
"In a matchup of the two best teams in baseball, George Springer's performance on the field tonight and throughout the World Series truly embodies the same 'Never Give Up' spirit that drives the Chevrolet team to win every day," said Brian Sweeney, U.S. vice president of Chevrolet. "We are proud to recognize Springer's tremendous efforts with the Willie Mays World Series MVP award and the 2018 Chevrolet Silverado Centennial Edition pickup."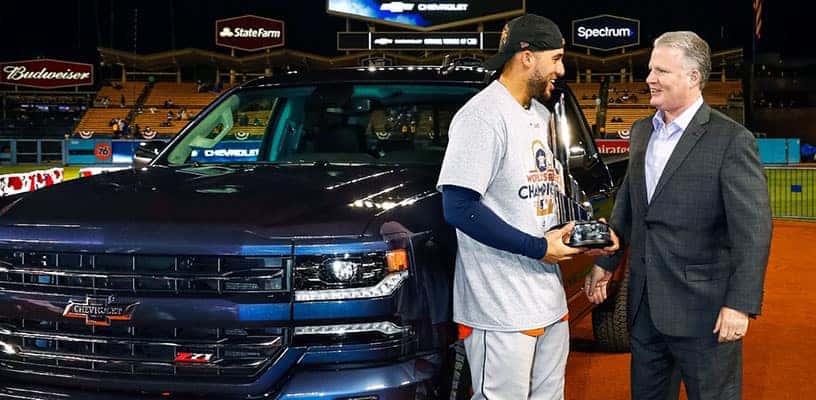 Chevrolet's Centennial Editions are available on the 2018 Silverado and 2018 Colorado models. You'll enjoy Centennial Blue topcoat and boast heritage-inspired bow-tie emblems that are rimmed in chrome and have Chevrolet written in chrome script on a dark blue background – an echo of the original One-Ton badge reincarnated with modern ingenuity. You can find this eye-catching brand symbol on the grilles, front doors, and tailgates plus additional 100-year badges on the front doors, chrome tow hooks, and more bow ties on their spray-in bedliners and floor mats.
Chevy is proud to have set the standard for capability and style with their trucks for 100 years. While the designs might have changed over the years, the brand's dedication to meeting your needs in both form and function has stayed the same. Stop by to test drive one of our outstanding 2018 Silverado and 2018 Colorado models and talk to a team member to learn how you can secure the same truck that Springer received for yourself.
Chevrolet is also a proud sponsor of PLAY BALL, baseball's collective effort to encourage young people and communities to participate in baseball- or softball-related activities, including formal leagues, events and casual forms of play.
Images courtesy of Chevrolet Media