Bright Kids Offer Fresh Way to Keep Windshield Clean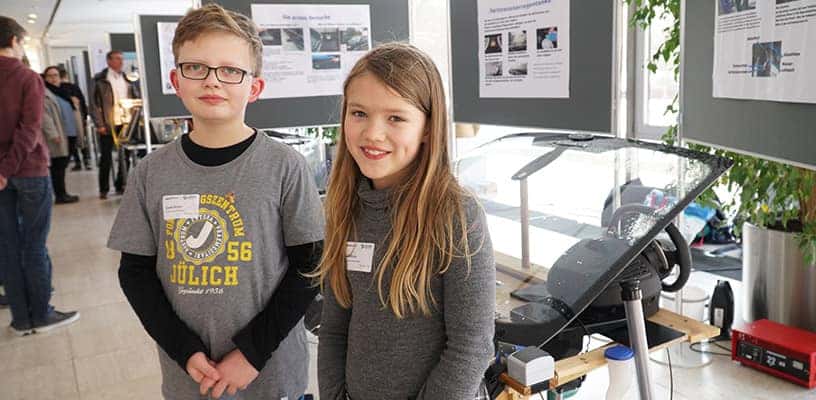 Ford is helping a pair of siblings turn their eco-conscious idea to reuse billions of gallons of water each year a reality – and keeping your windshield clean while they're at it! Sibling duo, Daniel, 11, and Lara, 9, Krohn wondered why their family car can't collect rainwater and use it in the windshield reservoirs to keep the glass clean and free of the dirt from the road. It's an idea that could one day help to save billions of gallons of water on the road every year and even help vehicles be more efficient overall. This is just another example of how Ford is pushing the boundaries of innovation and creating a greener world.
Daniel and Lara, from Jülich, Germany, were traveling in the family car last summer when the clouds opened up and it started down-pouring. But when their dad Gerd, who was driving, tried to clear away the smears of the road, the reservoir was empty – and the windshield just got dirtier and dirtier. "It was a downpour. There was water everywhere – except in the windscreen wiper reservoir. My sister and I thought this was really funny and then the answer suddenly seemed obvious. Simply reuse the rainwater," said Daniel.
"We couldn't believe that no-one had thought of it before," added Lara. "To try it out, we took apart our toy fire engine and fixed the pump to a model car inside an aquarium. Then we added a filtering system to ensure the water was clean. It just worked really well."
When the team of engineers at Ford heard about their first-prize win in a local science competition, they decided to adopt it and help the children develop it for a full-sized test car. They were so impressed that they offered to install a full-sized device into a Ford C-MAX test car. To collect the water, rubber pipes connected the bottom of the windshield to a reservoir that collects the water and redistributes it where it's needed most.
"Daniel and Lara's idea has been staring drivers in the face for decades – and it has taken one moment of ingenuity to bring it to life. In less than five minutes of rainfall the washer reservoir is completely full," said Theo Geuecke, supervisor, Body Exterior Hardware, Ford of Europe.
Water usage by vehicles is expected to increase as additional cameras and sensors are added to the vehicles because they also need to be kept clean. Ford engineers are already working on ways to capture water, via rain and condensation, including a way of gathering moisture from the air and filtering it into drinking water. See more about this initiative at On‑the-Go H20.
"What a brilliant idea! Innovations like these are essential to make the water we have to go further. We will all need to change our behavior to waste less water, but we'll also need clever new bits of kit like the one Daniel and Lara have designed," said Nicci Russell, managing director, Waterwise.
Take a look at our current inventory of new Ford cars, trucks, and SUVs to see how else our engineer teams are innovating to give you the best vehicles possible. We are always searching for smarter and more exciting ways to make your drive more comfortable and convenient. Start shopping with us today!
Images courtesy of Ford Media
Join the Conversation
Comments
comments