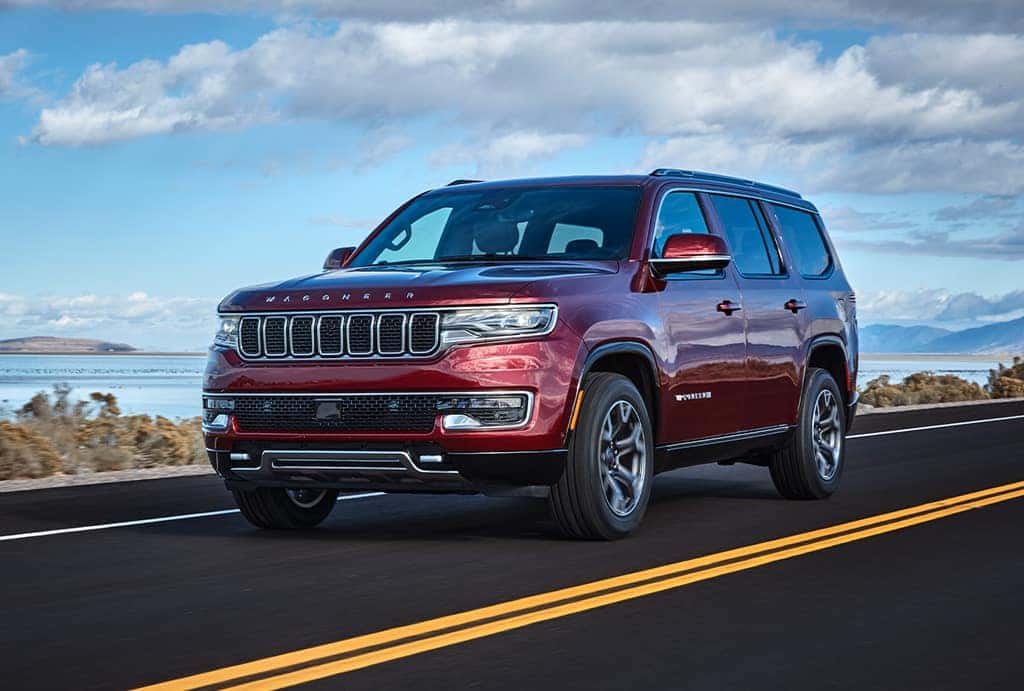 After a 30-year hiatus, the Jeep Wagoneer is back. Making its first appearance in 1962, the Wagoneer was America's first four-wheel-drive vehicle paired with an automatic transmission, seeing the stage for SUVs to come. 
In 1973, the Wagoneer introduced the first automatic four-wheel-drive system. And in 1984, the Grand Wagoneer joined the Jeep lineup, starting the gold rush for premium SUVs by delivering standard features like leather interior and AC, plus the famous Jeep capability with immense horsepower and torque. 
Fast forward to today, and the Wagoneer and Grand Wagoneer make their grand re-entrance. Both clad with luxurious capability and a tricked-out interior. 
Legendary Performance
The three-row Wagoneer returns to the SUV world in stride offering a 5.7-liter V-8 engine with an eTorque 48-volt mild-hybrid system that produces 392 horsepower and 404 pound-feet of torque. With all that power, the new Wagoneer offers a best-in-class 10,000-pound max towing capacity. 
It furthers its towing credibility with its Quadra-Lift suspension that allows up to 10 inches of ground clearance and includes the ability to lower itself under a trailer coupler and back up into position.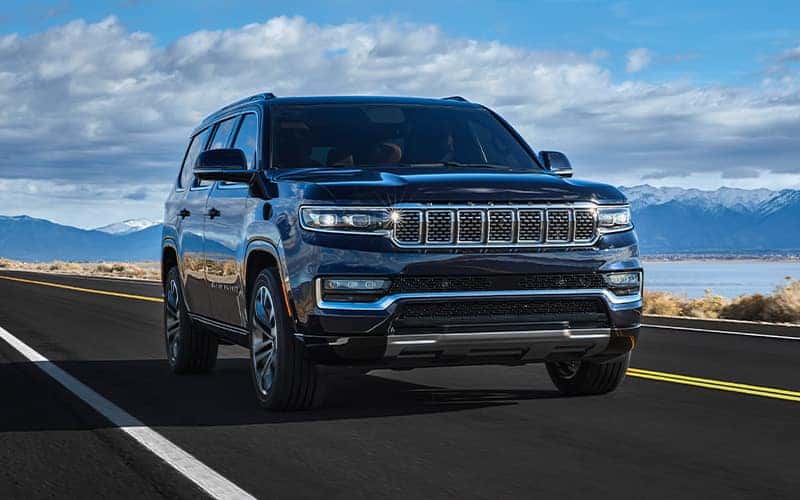 And it doesn't stop with superb towing capacity. The Wagoneer sits on an all-new body-on-frame structure to give it that off-road prowess Jeep lovers have come to expect. Its frame, with a Quadra-Trac II system at the helm, allows the transfer of up to 100% engine torque to any one wheel, along with five terrain settings — auto, sport, rock, snow, and sand/mud — that adjust shift points and throttle to handle any adventure. 
Performance seeps through to the interior as well with a best-in-class 27.4 cubic feet of cargo volume behind the third row, so you'll have the room you need to bring your gear, bags, and more. 
Leading in Luxury
Much like the performance didn't stop at towing, the interior doesn't stop at spacious. Although there are a few things regarding space we just can't help but mention. 
The Wagoneer offers best-in-class overall passenger volume, total volume, third-row headroom, and second- and third-row legroom. Cargo and humans get all the room they deserve. 
Again, the Wagoneer is more than room. It comes loaded with up to seven screens totaling 75 inches of digital display. The driver has a digital cluster and shares a climate and entertainment screen with the front passenger. That front passenger also gets their very own screen, the first in its class. Second-row passengers each get an entertainment screen and share a climate control screen.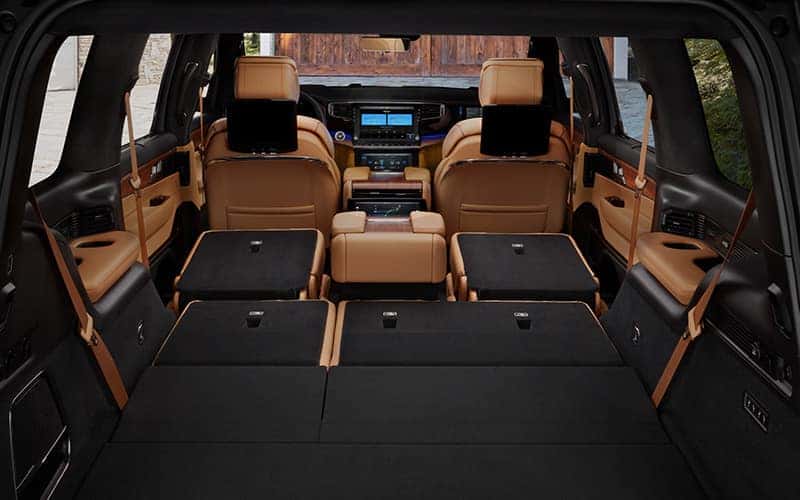 Impressive, yes, but the screens are only as good as what they're powered by. Good thing all the tech in the Wagoneer is powered by the new Uconnect 5 system that's five times faster than the previous generation. It even offers Wi-Fi that supports up to eight devices and a dual Bluetooth connection. 
Those rear-passenger screens? Those are the first in the industry to offer integrated Amazon Fire TV. Those come right alongside another industry first, a 1,375-watt, 23-speaker McIntosh sound system. A premium audio system that shares its debut with the Grand Cherokee L. 
The all-new Wagoneer and Grand Wagoneer also come with over 120 safety systems including an impressive Hands-free Driving Assist ability. This feature makes the Wagoneers the second and third vehicles to offer Jeep's first-ever hands-free driving technology that's available at all speeds on approved roadways. 
Paying for Premium
Built proudly in Warren, MI, the all-new Wagoneer and Grand Wagoneer come in Series I, II, and III. The Grand Wagoneer adds an Obsidian trim that blacks out just about all it can. 
Expect to see select Wagoneer and Grand Wagoneer models soon. The rest will follow later in 2021 and early 2022. 
2022 Jeep Wagoneer Pricing
Wagoneer Series I: $59,995
Wagoneer Series II: $69,995
Wagoneer Series III: $74,995
2022 Jeep Grand Wagoneer Pricing
Grand Wagoneer Series I: $88,995
Grand Wagoneer Series II: $95,995
Grand Wagoneer Obsidian: $100,995
Grand Wagoneer Series III: $105,995
The pair of vehicles that birthed the modern SUV and defined American luxury in an SUV have returned, setting the bar once again for what an SUV should be. Call Garber Chrysler Dodge Jeep Ram today to order your all-new Wagoneer or Grand Wagoneer at (866) 969-4765. Or order online! 
Keep an eye on our Facebook and Instagram for when we get a shipment of Wagoneers, so you can come in for a test drive.
See the Wagoneer and Grand Wagoneer in their entirety! 👇
Sources: