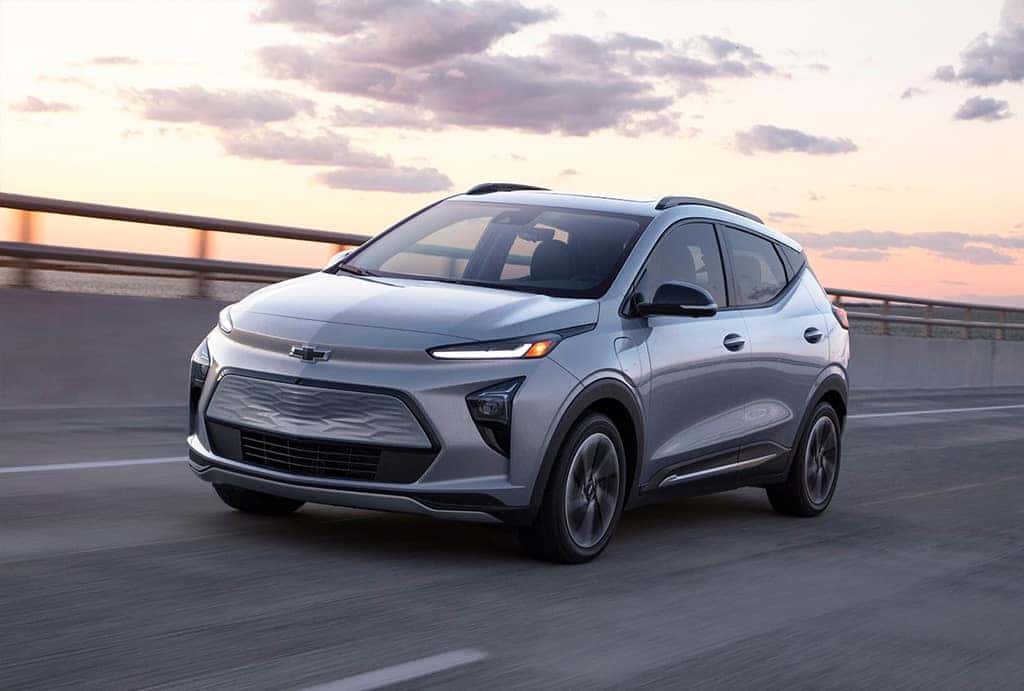 Please join us in welcoming all-new Bolt EUV to Chevy's all-electric lineup, making it the first crossover that relies solely on battery power. You can tell it's related to the Bolt EV based on its outward appearance. We think it takes on the role of a big brother due to its more expansive interior, offering more comfort and cargo capability.
The Bolt EUV offers rear passengers 31.9 inches of legroom and boasts an ample 56.9 cubic feet of cargo volume with the rear seats lowered. And don't worry, its size doesn't take away from its performance. The Bolt EUV gets an EPA-estimated 247 miles of driving range on a full charge.
To help wrap your brain around just how far that is, let us help. 247 miles is 3,500 times as long as a football field, 1,000 times longer than the Eiffel Tower, and 3,000 times longer than the Great Pyramid of Giza.
11.5-Kilowatt Charging?!
Great Scott, Marty!
That means you can charge your new Bolt EUV at home in seven hours — 26 miles per hour — with a standard Level 2 Charger. Another first is the new standard Dual Level Charge Cord that allows you to get a Level I or Level II charge at home, for those who don't have a Level 2 Charger adapter.
Speaking of those folks. If you are one of those folks or considering becoming a convert to one of those folks, here's something just for you:
Chevrolet will install a Level 2 charging station in your home at no cost to you when you buy or lease the all-new 2022 Chevy Bolt EUV.
Which is an outstanding deal considering Level 1 charging with a regular ol' 120-volt outlet only gets you 4 miles of range per hour, making the free upgrade to a Level 2 charging setup a no-brainer.
"Charging at home is easy enough, but you can kiss roadtrips goodbye if you switch to all-electric"
Hold your horses, naysayers. With the all-new Bolt EUV, you can. Powered by the available myChevrolet Mobile App, you get access to an entire network of 40,000 Level 2 and DC Fast charging stations that can get you nearly 100 miles of range in about 30 minutes.
Give a Warm Chevrolet Welcome to Super Cruise!
Yet another first for the all-new Bolt EUV, as it becomes the first Chevy model to host GM's hands-free driver assistance technology.
Super Cruise is linked to more than 200,000 miles of compatible roads in the U.S. and Canada. The hands-free tech is three of your favorite driver safety features blended together in perfect harmony with a little extra juice.
Adaptive cruise control, enhanced automatic emergency braking, and lane centering maintain your selected speed and distance from traffic ahead, detect curves and terrain changes in real-time, and use radar to avoid or reduce damage from potential front-end collisions.
Here's where that extra juice comes into play. The all-new Bolt EUV has a steering-wheel-mounted driver attention camera. It tracks head position and eye gaze to ensure your attention is on the road. If it senses your gaze or head position wanders, it delivers up to three alerts.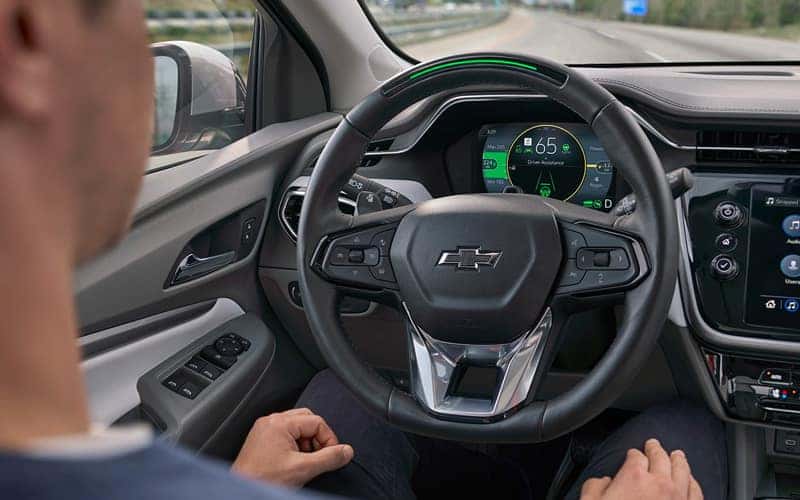 The first alert flashes the steering wheel's light bar to catch your attention. A second alert comes if the light flashes for too long without the camera reading your face front and center. It will then flash red and beep to snap you back to reality.
Your third and final alert is similar to the second. When the lightbar flashes red too long without a response, a voice prompts you to take immediate control of the wheel. If you don't oblige, the Bolt EUV will slow you to a stop in your lane, and if there's still no response, will activate your hazards and call OnStar Emergency Services.
Chevrolet's all-new Bolt EUV is smart, roomy, and practical. Give us a call (877) 861-7661 to learn more about going all-electric. And come experience the electricity yourself on a test drive right here at Garber Automall. 
For more on all-electric driving,  Chevrolet, and Garber Automall, like our Facebook page and follow us on Instagram!
Sources:
https://www.chevrolet.com/electric/bolt-euv
https://www.themeasureofthings.com/results.php?comp=length&unit=mi&amt=247&sort=pr&p=9
https://www.chevrolet.com/electric/s3/uploads/chevrolet/super_cruise_8746a33b90.pdf