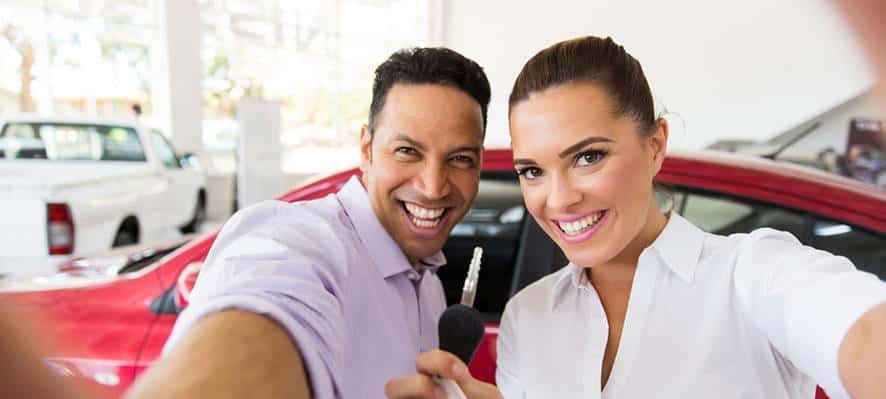 Buying a car takes plenty of preparation and research as well as just a dash of good luck to land on the one of your dreams. But hopefully, you can shift the odds even more in your favor by following these straightforward tips to helping get the best bang for your buck. We'll take into account what you're trading in, your current financial situation and teach you some of the tricks of the trade.
However, you should also know that getting the best deal on a car is a game that is best played slowly. It takes time to do your research, time to find the right sales team member to help you through the process, and time to get the car at the payment you like. Going into the dealership with this mindset can save you from untold frustration and will yield better results.
If you're not sure whether you want to buy or lease a new vehicle, read through our guide so you can tailor these tips to your experience. We can also help you discover which are the best cars for teens, and prepare you for purchasing your first vehicle. As always, feel free to contact us for more information.
Guide to Get the Best Deal
Watch the car you want and wait until the model year turns over to get your new car – this works for both leasing and buying. For instance, wait until the new 2018 model comes to the dealership, that way the 2017 models will be priced to move. That's your time to swoop in and get the car you've been dreaming of at a great
While you're waiting for the model year to turn over, start putting aside money for a down payment. The bigger your down payment is, the less you'll pay monthly during your lease or financing. Some of our best customers set aside their tax return, then wait until the model year turns over to lock-in an out-of-this-world
When you're gathering information about vehicles and narrowing down your options, stop by the dealership on a weekday afternoon. Our sales person will have more time to devote to your questions and will be less rushed about your options than on the weekend when we're busy.
Listen to suggestions from your sales associate. When you're doing your fact-finding mission mid-week, tell us your target price and don't be afraid to challenge us to try to find you a better deal for a similar car. The more flexible you are about colors, options, and even models could lead you to get more bells and whistles for at or under your target price.
At the same time, make sure the sales person hears why you should earn larger discounts. If you plan on bringing your vehicle in for maintenance only to our Service Department, tell us. If you plan to refer your friends, tell us. If you are a GM family member, tell us. Tell us what other vehicles you have in your household, and we'll see what else we can do to lower your payments.
Ask for an extended test drive if you think you need one. Take it home to show your family and make sure everyone can fit in the seats they'll likely be occupying on a normal It's always a good idea to verify that the car fits in the garage and see how it handles that tricky turn on your commute. Be sure the car is a good fit before you sign your name so you know your money isn't going to waste.
Take a minute to check out the change in insurance price and bring your quote when you come to the dealership. If you're upgrading from a four-cylinder engine to a V-6, your insurance rate might change, and you'll want to be prepared with that knowledge before you sign the dotted line.
Don't get lost in the details of a deal. It's easy to fixate on one specific detail and lose sight of everything else that comes along with your vehicle. Pay attention to everything being offered to you, including trade-in value, interest rates, and added accessories or additional costs.
Bring your old car in for a trade-in that can count towards your money down. This includes all the keys, registration, and repair history and we'll give you the most money for your trade-in guaranteed.
Ask lots of questions about financing, especially if you have a less-than-perfect credit score. We are dedicated to helping you find the right vehicle and guarantee you financing – even with bad credit! If this is the only thing holding you back from either leasing or buying a car, talk to one of our Financial Team They will help you assess your credit situation to get you into the option that best fits your driving style and needs. Contact us or apply for financing now.