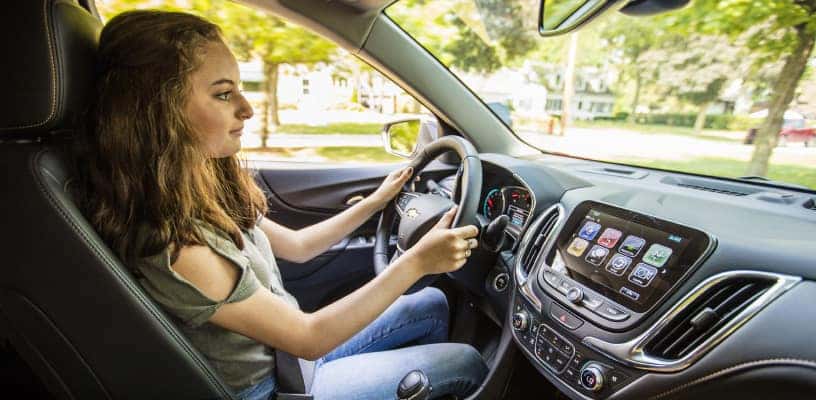 There's plenty to think about when you send your kids back to school, but you can ease one worry with Chevrolet's Teen Driver feature. Chevy built this technology into its new vehicles to help you instill healthy driving habits early and prevent unsafe behavior before it starts. With the available report card, you can go over trends in their driving behavior together so they learn how to react appropriately in everyday driving situations.
Set up Teen Driver at home by assigning one of your keys to activate it automatically when your kid uses that key to turn on the car. Do this through the Teen Driver menu in the Chevrolet MyLink display and choose the settings you'd like to track.
Teen Driver allows you to set parameters that instill good behavior even when you're not in the car. You can set the audio system to stay below a selected volume and automatically turn on available active safety technologies like side blind-zone alert, forward collision alert, and automatic emergency braking.
According to the CDC, in 2015, only 61 percent of high schoolers said they always wore seat belts when riding with their peers. With the Teen Driver, you can set the audio to stay muted until the driver and front passenger put on their seatbelts, encouraging teens to buckle up before taking off.
Help prevent unnecessary risks by setting a custom speed alert when the vehicle travels over a preselected speed. It provides audible and visual warnings that alert the driver when they are over the selected speed. You can also bring the vehicle's maximum speed down to 85 mph.
You can see when the driver exceeds these limits on the in-vehicle report card so together you can identify potential problems and instruct your young driver on how to create safer habits. Chevy leads the way with Teen Driver technology and in-vehicle report on most of its models.
Check out our current inventory of new vehicles and ease your mind when your teen gets behind the wheel.
Images courtesy of Chevrolet Media