New Interior Fabrics Debuted in 2018 Equinox
Chevrolet is once again listening to the only voices that matter – yours. When it comes to creating a comfortable, fashion-forward interior with durable fabric that's made for everyday use, Chevy's design team turned to social media to hear what our loyal drivers have to say. With input from drivers, lifestyle influencers, and our team who analyze trends, the 2018 Chevrolet Equinox will be the first to offer two new durable seat options. First, a denim-like seat fabric that's dark, sleek, and easy to clean as well as an available leather material with a new treatment that resists staining and scuffing for higher trim levels.
"Many fashion trends disappear after a year of two, while the Equinox is designed for the long haul, making the durability of its materials very important," said Mara Kapsis, color and trim designer for the 2018 Equinox. "By following real people and absorbing the little things in life that help or hinder them — such as photos posted of muddy paws, spilled drinks or stains on the seats — we learned more about how we could make the new Equinox easier to live with and enjoy every day."
Inspired by contemporary trends in black denim clothing, the new fabric offered will provide exceptional wear and resistance. The dark color helps hide stains and dirt, and the construction makes it easy to vacuum and clean which saves you time and money on keeping your interior looking great every day.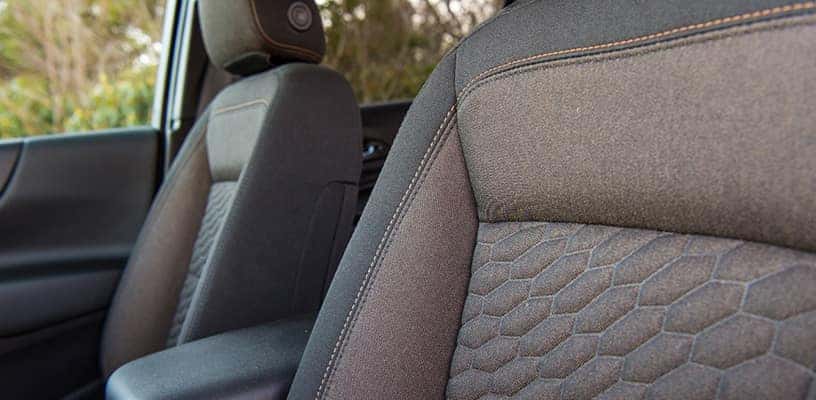 The available leather with a new treatment is also easy to clean and less susceptible to any "bleeding" of other materials like new jeans or scuffs from boots. However, if these imperfections do happen, the leather material is now easier to clean and will "let go" of those stains faster.
"The Equinox is designed for the way our customers live," said Kapsis. "Complementing its style with durable, easy-to-clean materials helps ensure it and its owners make a fashion statement every day."
Stop by today to test drive a Chevrolet Equinox. You can make an appointment with one our team members to learn more about how to take home your 2018 model today.
Images courtesy of Chevrolet Media
Join the Conversation
Comments
comments