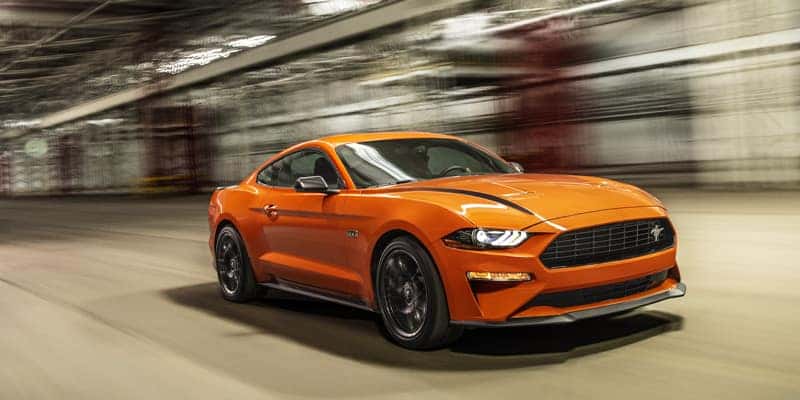 Remember in the not-too-distant past when the entry-level engines in sports cars like the Mustang were boring? We do too. Thankfully, those days are over, and Ford looks to wipe them from our memories with its all-new 2.3L High Performance Package for the 2020 Mustang EcoBoost.
When Ford initially dropped a revised version of the Ford Focus RS' 2.3-liter turbocharged four-pot under the base 2018 Mustang's hood, we knew we were in for a treat with its 310 horsepower and 350 pound-feet of torque. And treat us it did with its 5.3-second 0-to-60 time in independent testing.
For the 2.3L High Performance Package, Ford retunes the 2.3-liter engine then adds a 5% larger twin-scroll turbocharger to boost power and a larger radiator to handle the extra heat. The result is a 20-horsepower gain to 330 horses and 350 pound-feet of torque.
It's not all about power either, as the 2.3L High Performance Package also gives the Mustang a wider powerband. Peak torque remains unchanged, but the new tune broadens the powerband by 40% from 3,000 rpm in the standard engine to between 2,500 and 5,300 rpm. As for the peak horsepower, this holds through 6.500 rpm compared to 5,500 rpm in the standard EcoBoost engine. Buyers can pair this revised engine to either a 10-speed automatic or six-speed manual transmission.
On the track, the Mustang EcoBoost with the 2.3L High Performance Package delivers a 155 mph top speed, which is 34 mph higher than the base Mustang EcoBoost, and a mid-four-second 0-to-60 time.
The 2020 Mustang's 2.3L High Performance Package isn't just a straight-line beast either, as it boasts plenty of chassis upgrades to keep things nimble. It all starts with a near-perfect 53/47 weight distribution and continues with bits from the Mustang GT and its Performance Package, including an alloy front strut brace, larger four-piston front brake calipers, 13.9-inch front rotors, a 32-mm front sway bar, and a 21.7-inch tubular rear stabilizer bar.
Other updates include recalibrated electric power steering, anti-lock brakes, and stability control; five selectable drive modes; a 3.55-to-1 rear axle; and 19-by-9-inch aluminum wheels wrapped in 255/40R19 summer rubber.
Of course, there are some look-good pits to round out this package. On the outside, the 2.3L High Performance Package adds a black front splitter and belly pan, brake-cooling ramps, a blacked-out grille with an offset tri-bar pony emblem, "2.3L High Performance Package" side badges, Magnetic Gray mirror caps, a raised rear blade spoiler, and a metallic gray hood stripe.
Inside, the updates include an engine-spun aluminum instrument panel with oil and boost pressure gauges, and a numbered dash plate.
We expect to see the 2020 Ford Mustang with the 2.3L High Performance Package at Garber Automall serving Orange Park in the fall of 2019. Can't wait for it to arrive here in Jacksonville? You can check out our in-stock 2019 Mustang models via our online inventory page and choose the one that suits your needs. Once you pick a model, schedule a test drive in the Fleming Island area here at Garber Automall.